DECASTELLI – Indoor Furniture
Back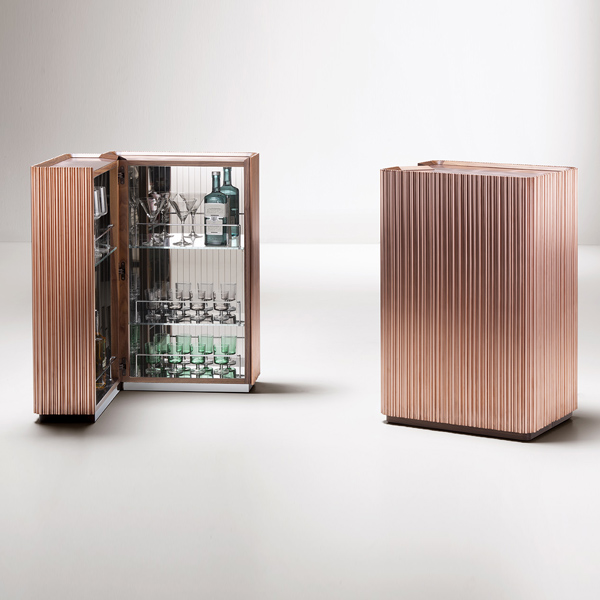 Barista
The bar, a much-loved place and symbol of sociability, enters the house, bringing with it emotions that epitomise the Italian lifestyle.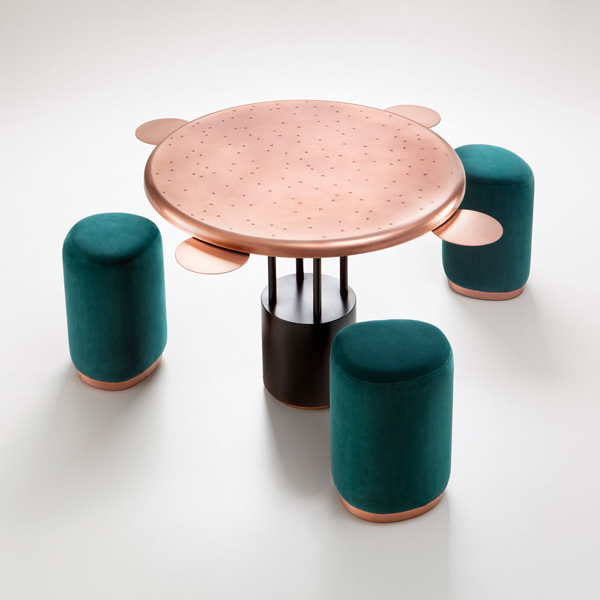 Burraco
This games table is a throwback to yesteryear with a refined allure, which takes on a whole new value as we find ourselves with increased leisure time at home.
Alpha
A small rhomboid-shaped table with storage space. Its simple shape renders it modular: by combining it with other identical elements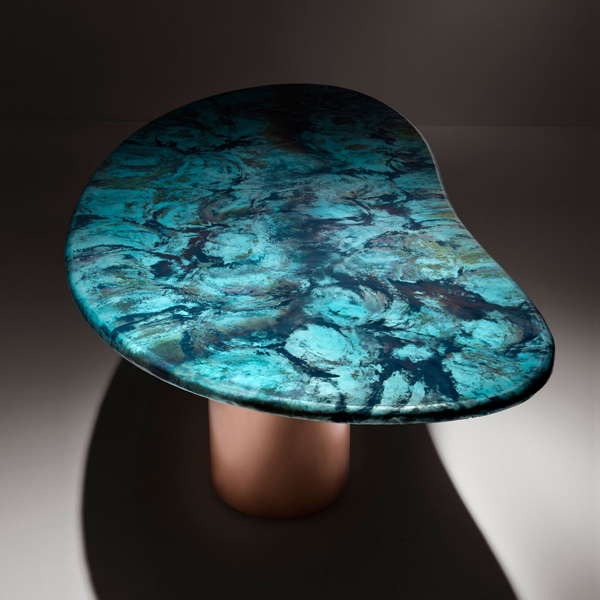 Baia
Large table characterized by an organic shape, inspired by the landscapes of the Venetian lagoon sea: the infinite variations given by the waves and the currents come to life in the evocative declinations of the DeNuance lagoon finish, with its many shades of light blue and green.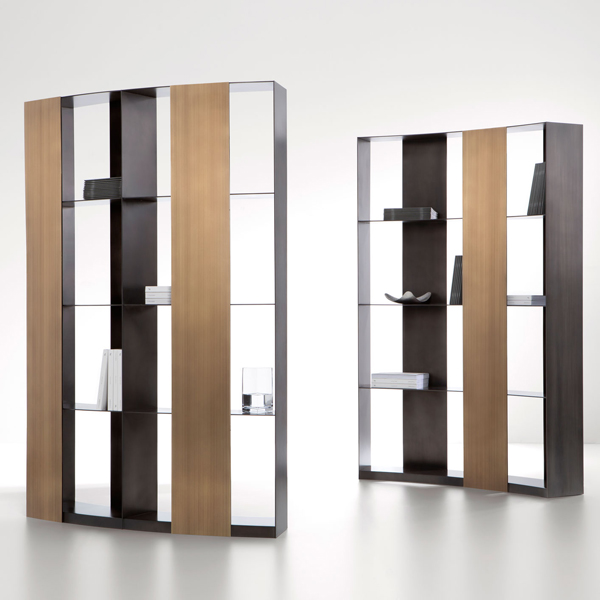 Nami
Modular bookcase characterized by a sinuous course that also makes it a separate self-standing, if positioned in the center of the room to configure the space.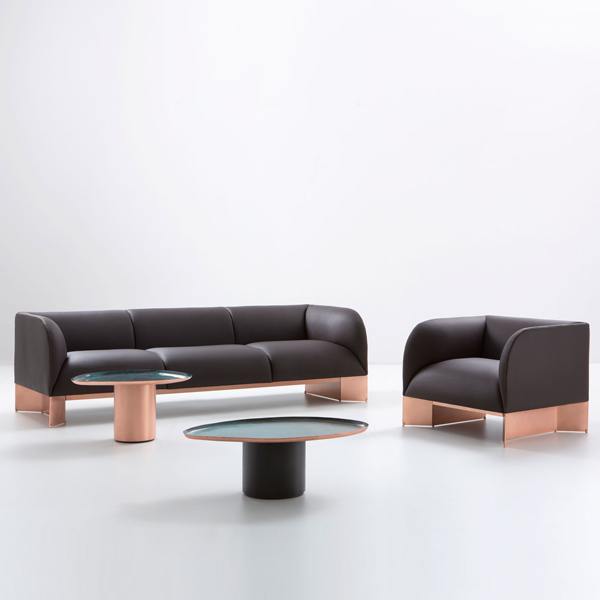 Caravan
Modular sofa that expresses a harmonious synthesis between the rigor of metal and the softness of the upholstery, which interact in an original formal composure.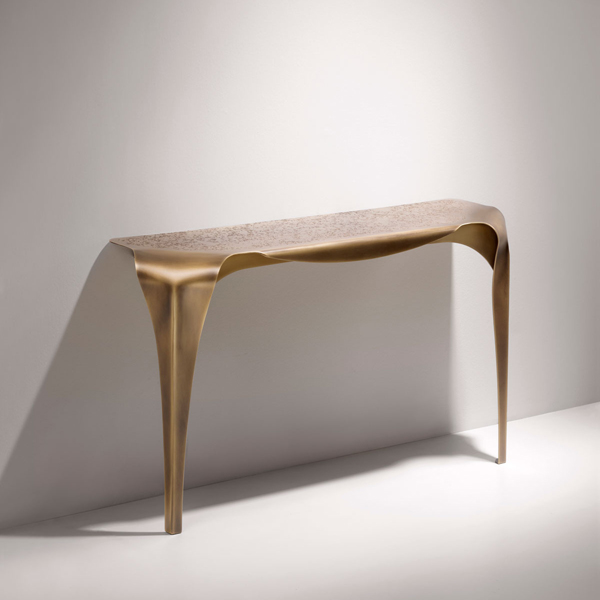 Convivium Consolle
Inspired by the table of the same name, Convivium consolle leans against the wall with curvy and graceful attitude.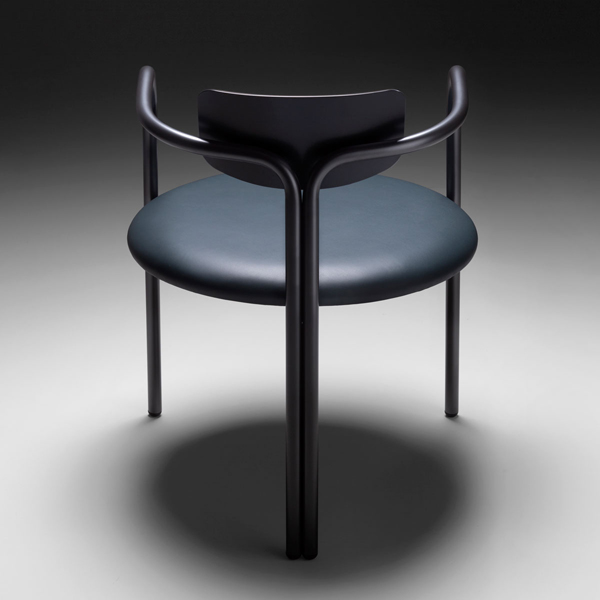 Via Veneto
inspired by the 1960s and recalls the atmosphere of the Roman dolce vita.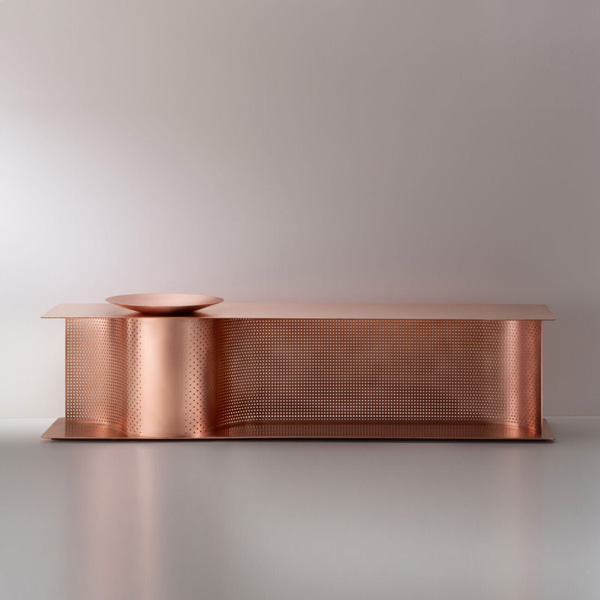 wave
With its essential shapes and gentle, sinuous sense of movement, Wave suggests a renewed, more conscious focus on the ritual of arriving home.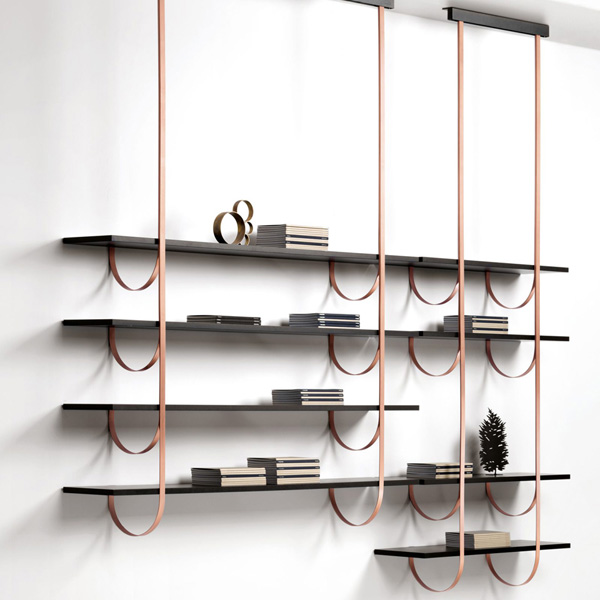 Talea
Thin perpendicular supports fall from the ceiling to be anchored to the wall in delicate curves. Like climbing vines, they create a new kind of suspended architecture. Each branch becomes a support for one or more shelves in a modular composition with clear botanical inspiration.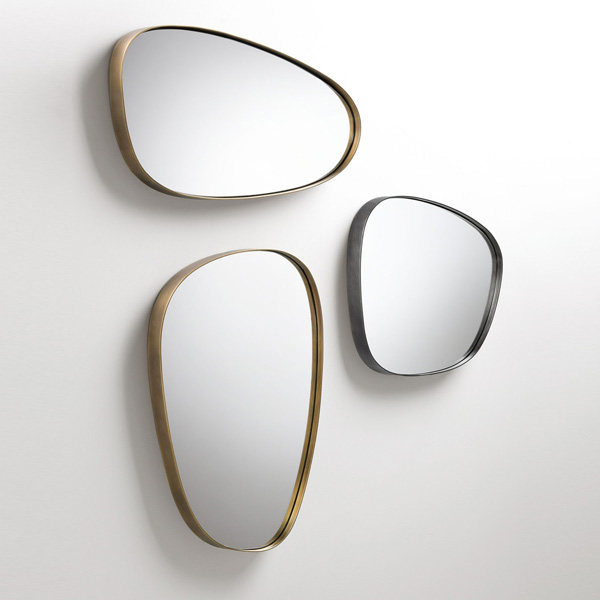 Syro Mirror
The Syro Mirror echoes the organic silhouettes of the entire Syro collection, translating them into mirrored surfaces that, surrounded by thick iron and brass frames, mimic the natural outlines of petals.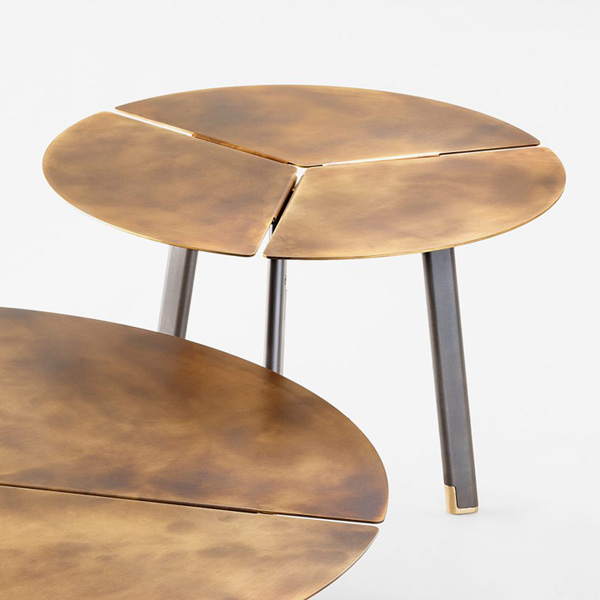 Placas
Three wedges, or three petals, open to create a circular table top, held together by the supporting frame of the legs. Simple yet effective design emphasizes the geometric nature of the design, highlighting the expressivity of the material, ennobled by the DeLabré finish.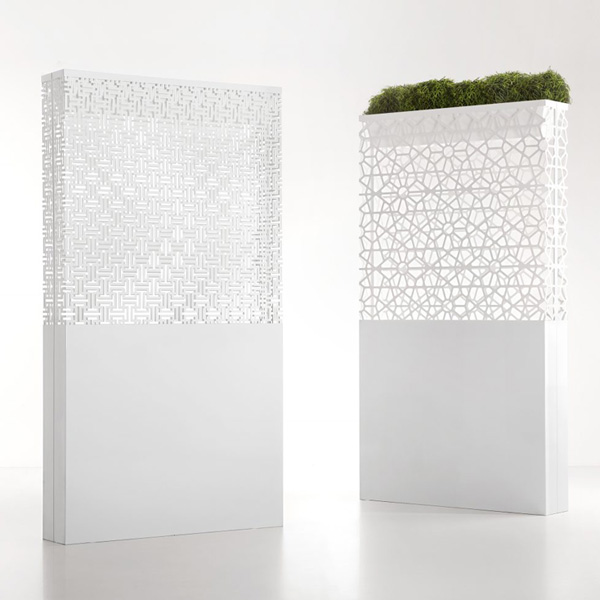 Dafne & Demetra
Partition, lamp or planter, these bright objects can decorate indoor and outdoor spaces. Three different functions come together in a single element characterized by a refined geometric pattern, filtering light.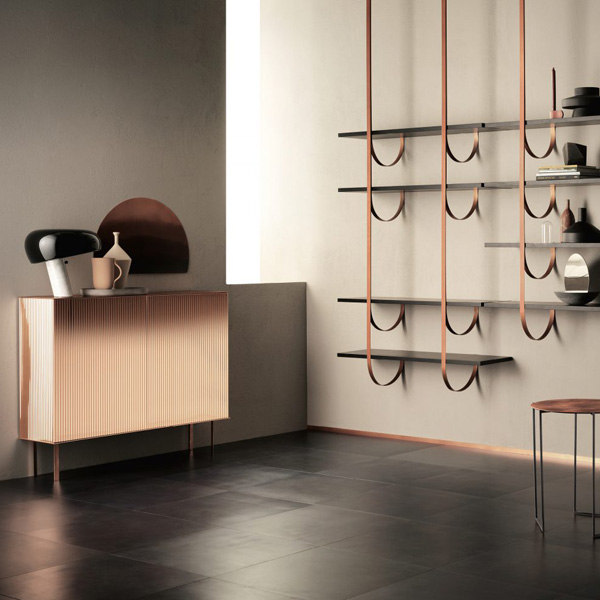 Band
The Band table set creates 'micro architecture' whose most distinctive trait is lightness. Long, slender legs support thin circular table tops, where metal nuances vibrate. In iron, brass and copper, these multifaceted objects gracefully and discreetly wear the sophisticated shades of De Castelli metals.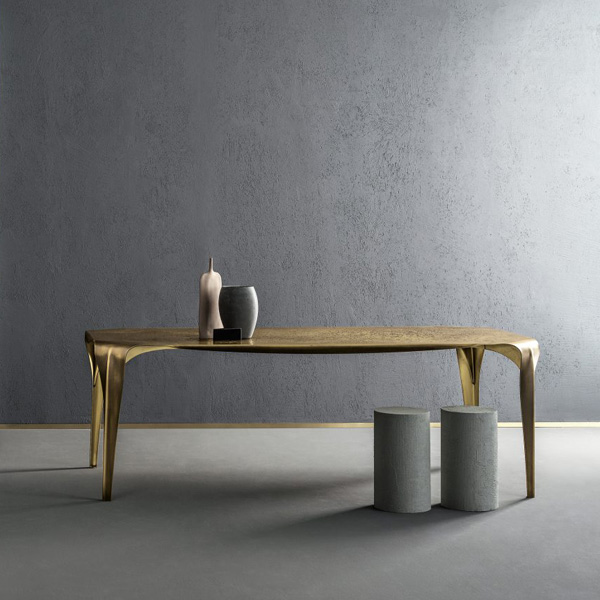 Babele
Aspirations of higher knowledge find three-dimensional representation in the striking verticality of this tower bookcase, stripped of all non-essential elements.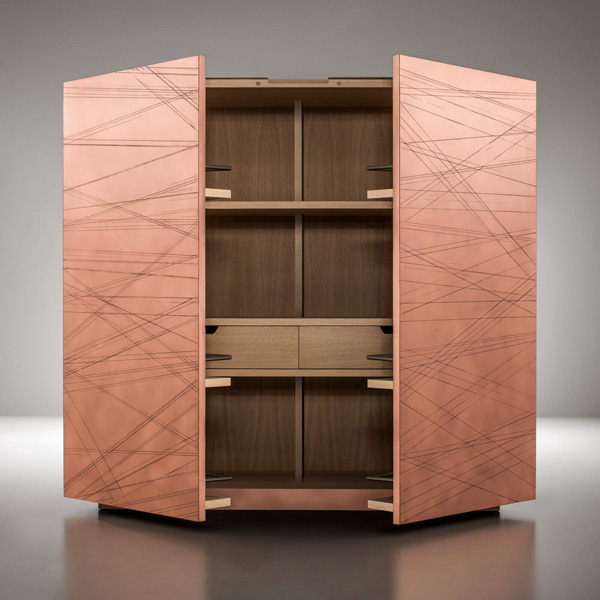 GRAFFIO
Lines, engravings, wiry signs mark metal surfaces to tell about old stories. Scratching not only defines the use of an object, but it becomes a way of materially fixing the metaphors of life.