EXPORMIM – Indoor Collection
Back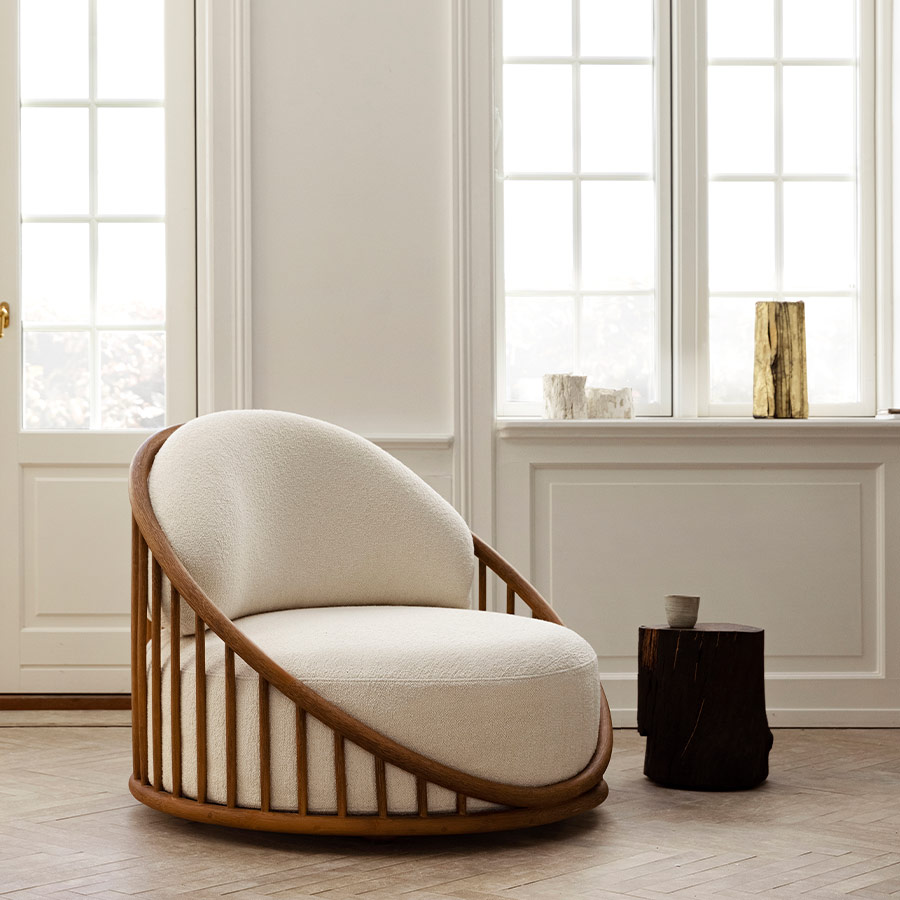 cask
The Cask lounge collection is a modern take on classic rattan furniture that is both elegant and embracing. The combination of geometrical simplicity and classic techniques makes a contemporary design that is novel and familiar at the same time. The construction consists of two simple circular rattan shapes forming a mesmerizing geometrical shape held up by a row of classic back ribs.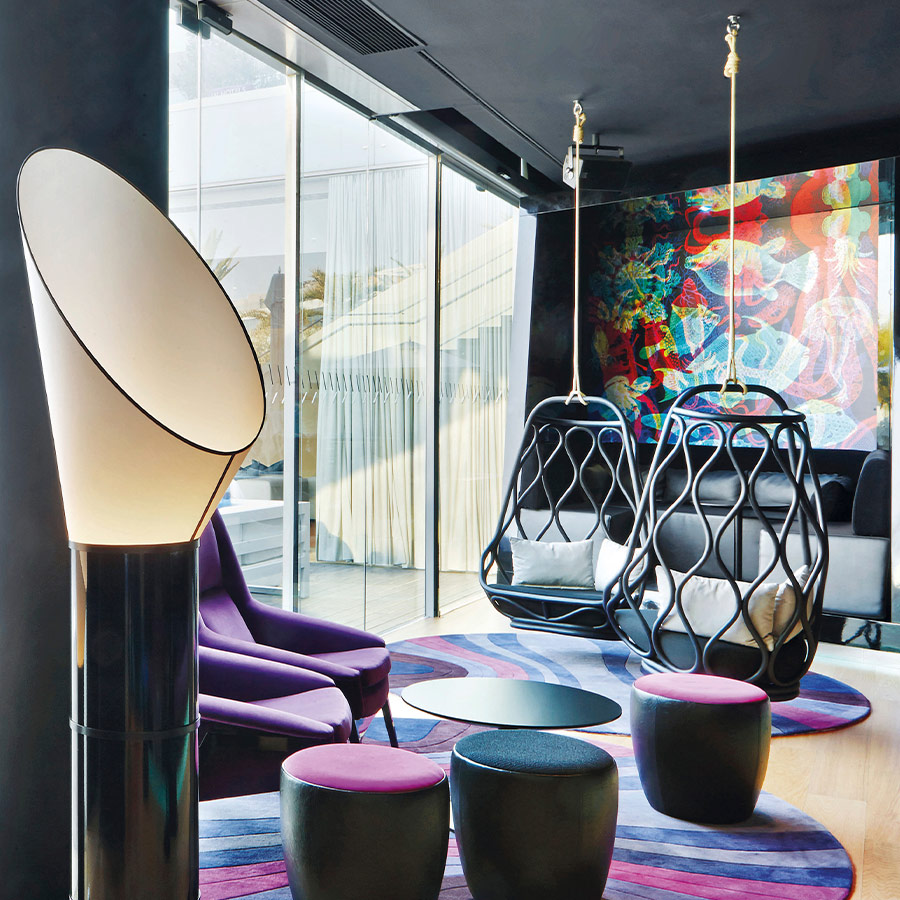 Nautica
Nautica is a hanging seat that pays homage to one of the first pieces produced by Expormim in the 70s. Our commitment to the creation of a unique design that would recover and rethink the traditional use of rattan was matched by the will of delivering something different, and unexpected.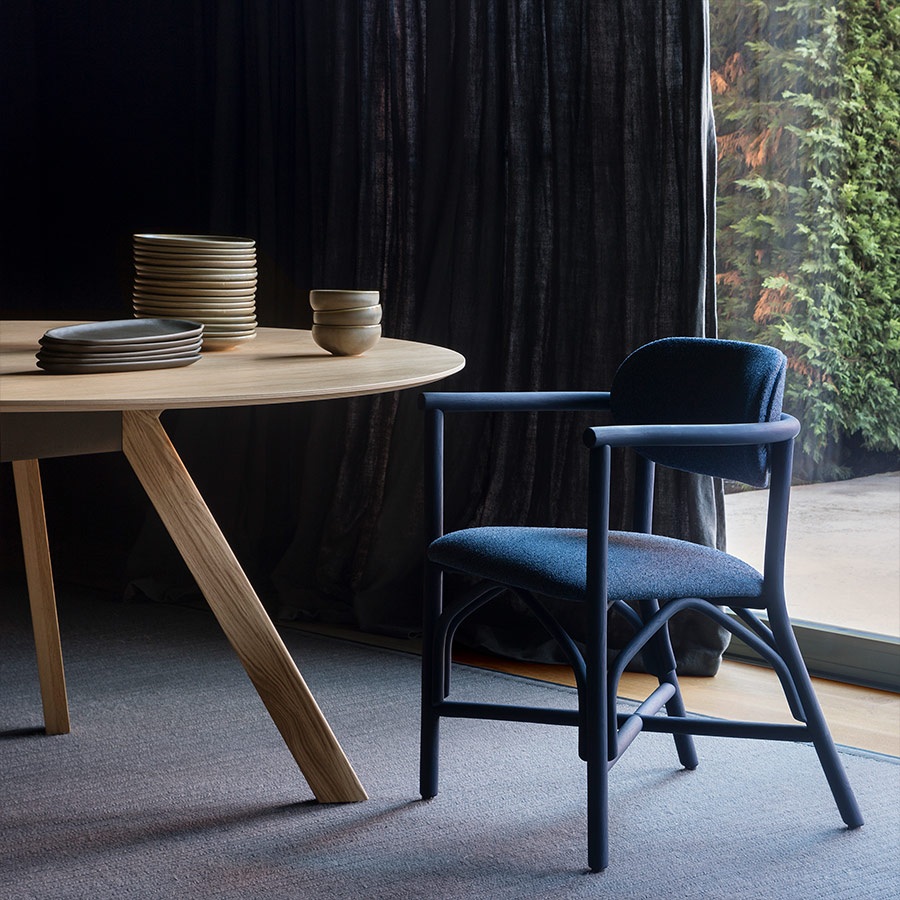 Altet
Altet is one of those timeless classics deserving to be reedited because of its elegance and the simplicity of its shape. Without giving up on its roots or losing a tiny bit of its character, this updated version of Altet keeps showing how to successfully survive the passage of time.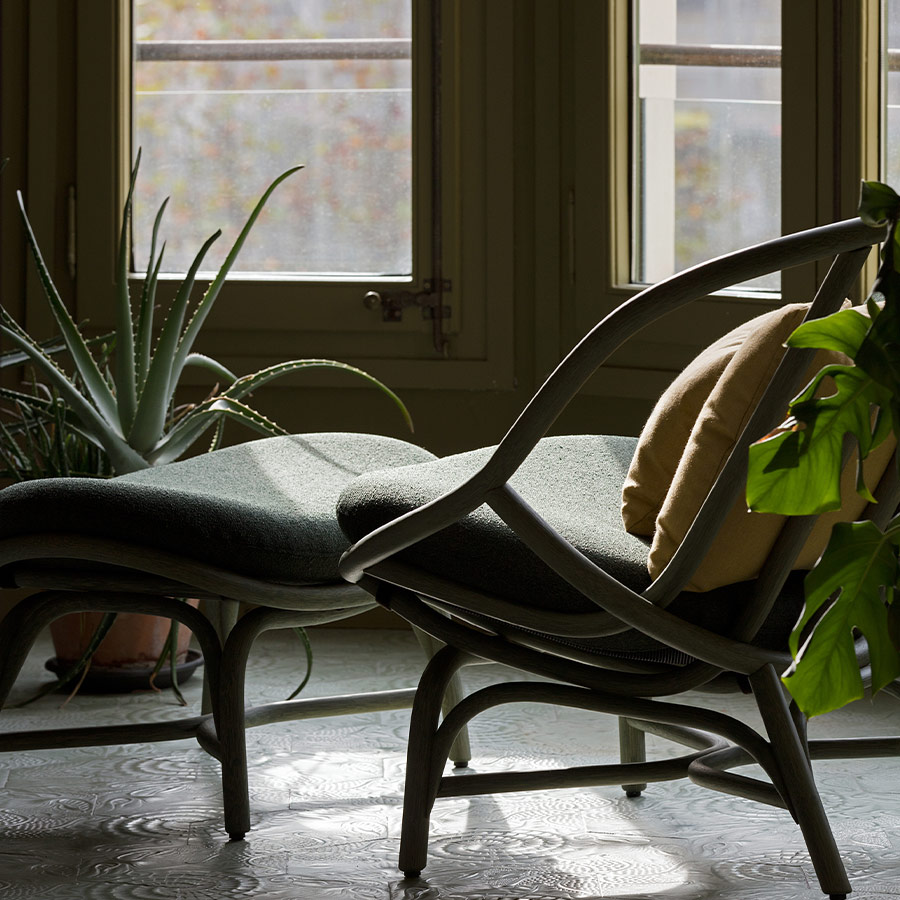 Armadillo
With its round, enveloping shell, Armadillo is a revision of a furniture classic in rattan: the papasan. But this is a radically free and wonderfully postmodern version.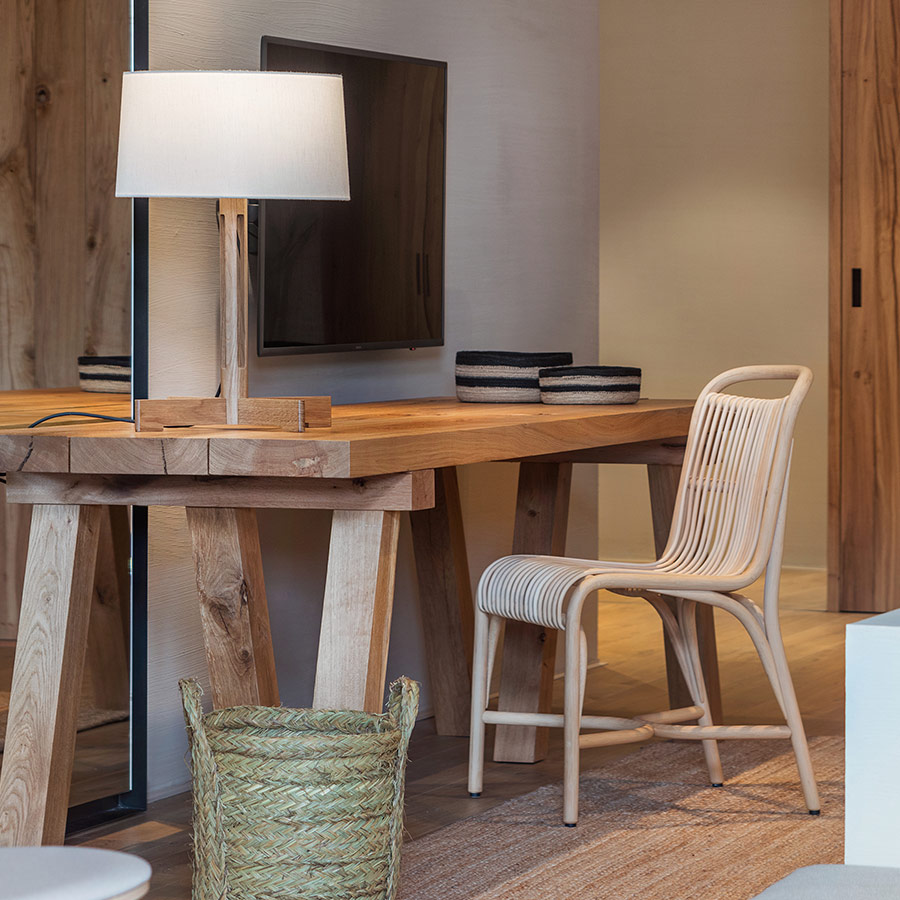 Gata
Gata originates from a thorough search for balance between the different elements, shapes and diameters of the rattan cane in order to produce a comfortable and resistant seating, as well as an aesthetically harmonic one.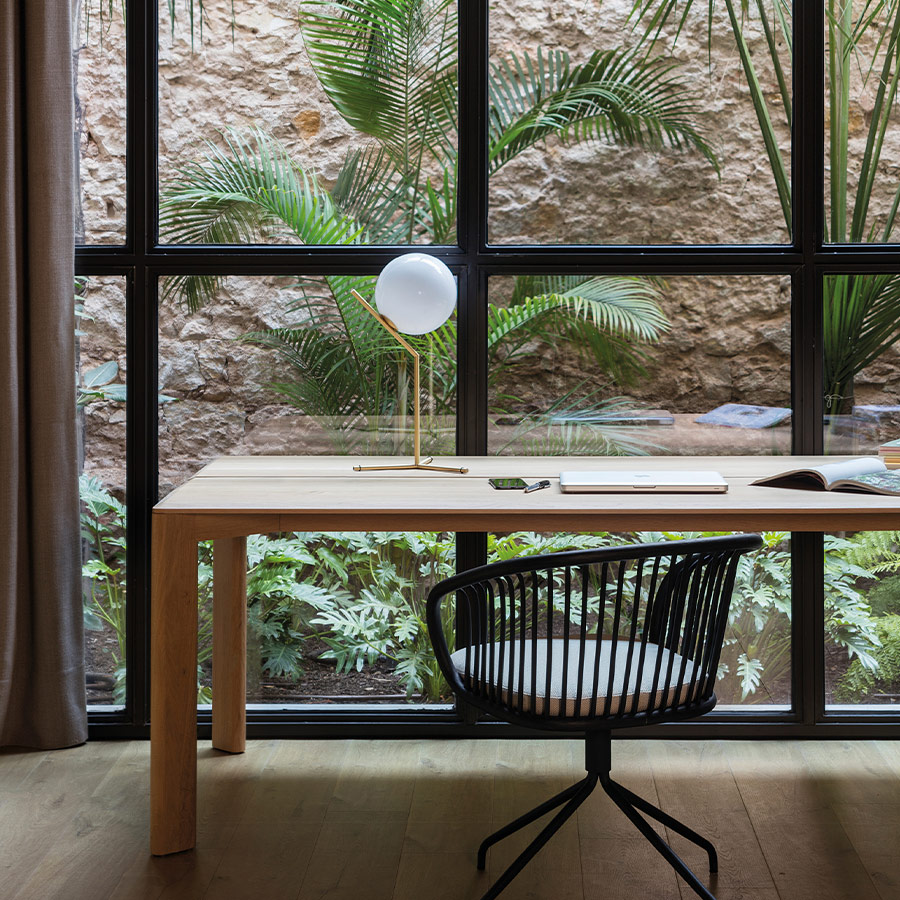 Kotai
If there is something that defines the Kotai table collection, it is precisely its soundness, as its own Japanese name denotes. Made of solid wood, its most distinctive feature is the bevel alongside its four edges and the cleavage dividing it into two identical halves and highlighting the unique possibilities of this noble material.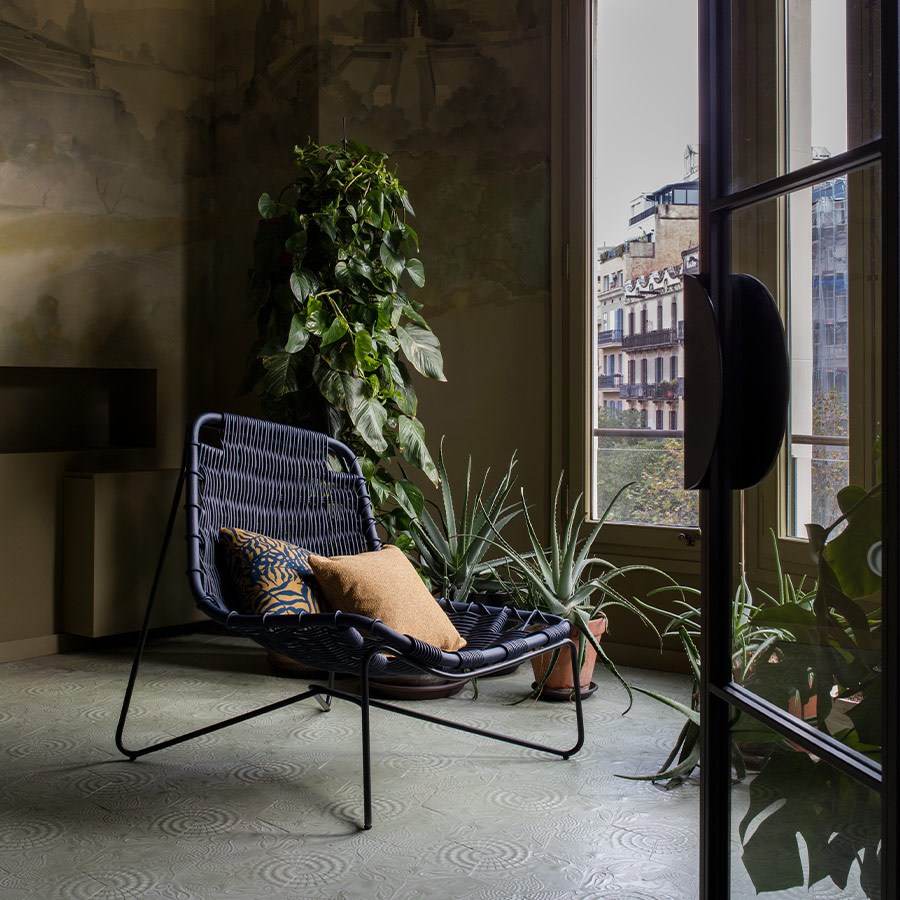 tina & pepe
Wickerwork is marvelous genre of art. This artisanal technique is the same all over the world. We can even claim that wickerwork is the first universal language of humankind: the language of hands. That is why we have done a lot of research on wicker and the weaving of natural materials.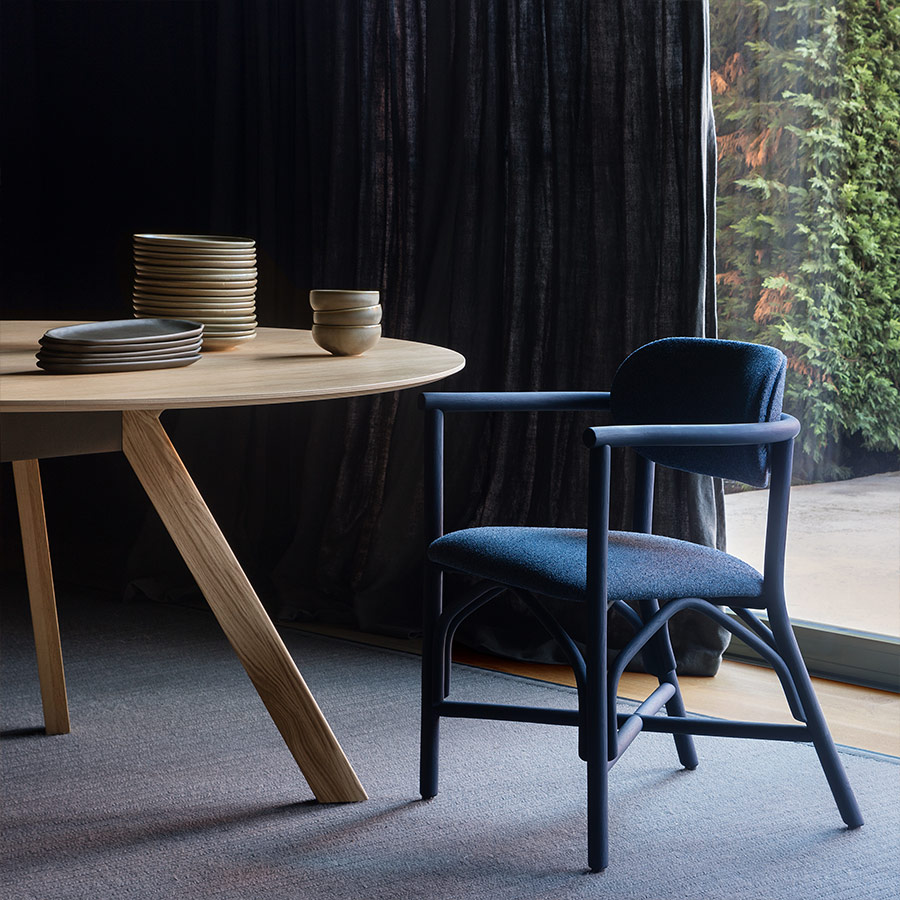 atrivm
Atrivm is the meeting place around which life unfolds, around which the structure of the Roman house is defined. The Mediterranean lifestyle maintains the tradition of celebrating life around the table. The tables of this collection, made of solid oak profiles, succeed in joining lightness and strength, and offer a wide range of dimensions and finishes suitable for the most demanding environments.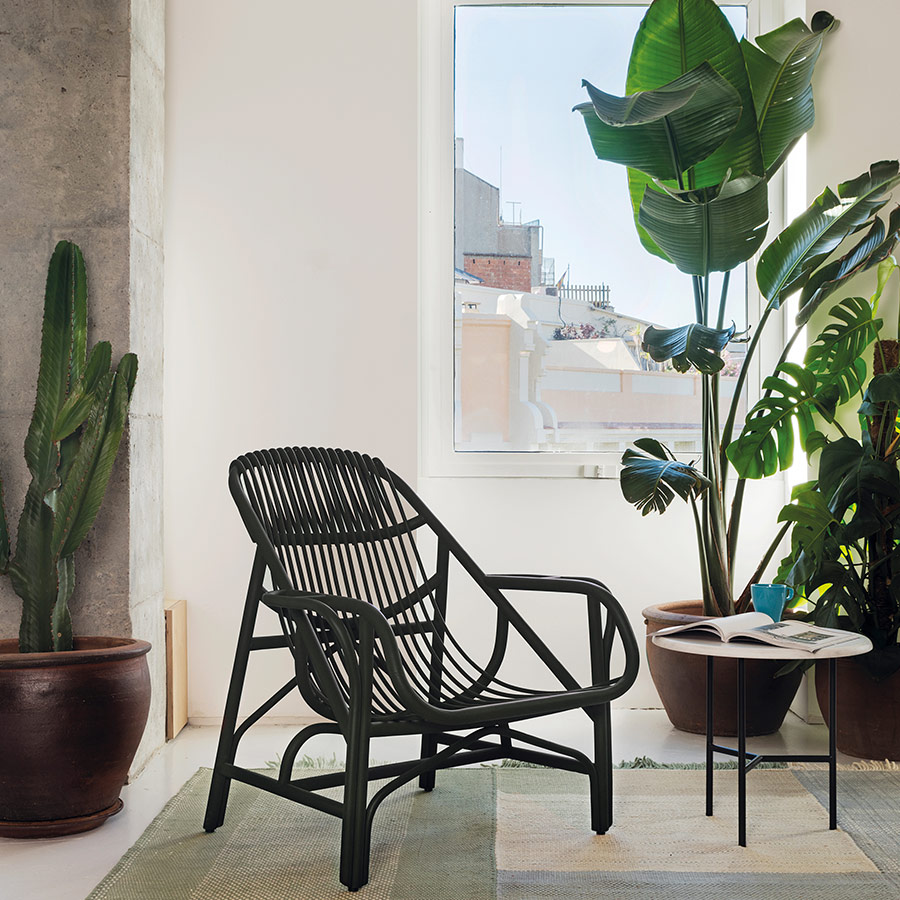 Benasal
Benasal, also known as the armchair that won Jaime Hayon's heart, is a simple and functional design seeking for comfort without any further ado. Pomposity aside, it is just an armchair inviting to sit and relax.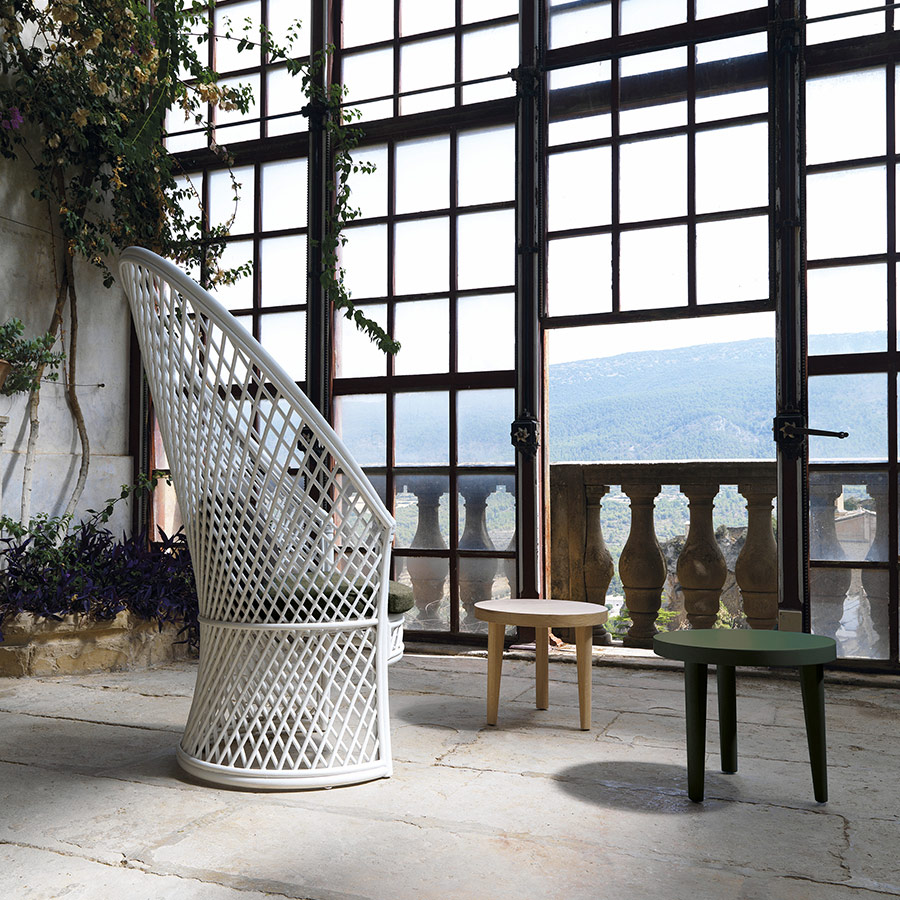 Copa
Of all our classics, Copa was perhaps the one that did not need to be remembered because it was never forgotten. Despite its majestic pose, the truth is its high backrest provides a warm, enveloping hug. Its organic design evokes the blossoming bud of a flower welcoming the person who sits on it.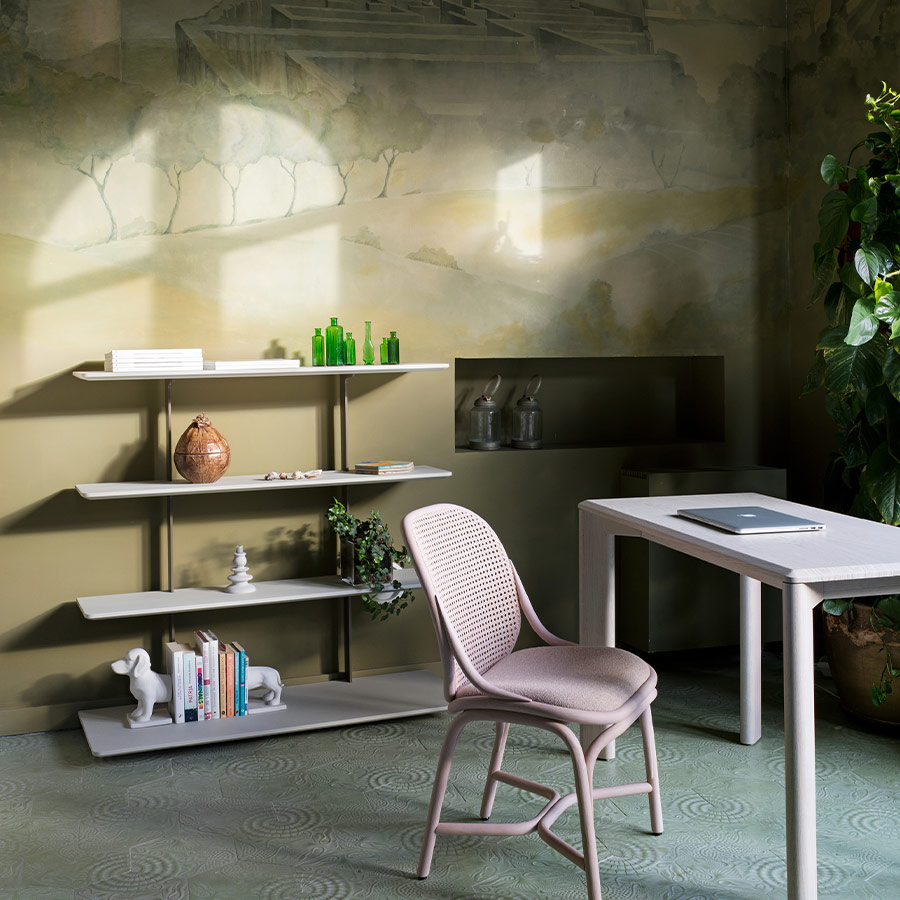 Team – Shelf
Nothing would be as it is in this collection without the material it is made of: solid wood. Wood gives identity to the pieces; it is the starting point, the reason of every detail in the project. Because this design is based on the details and they can only be constructed thanks to the material.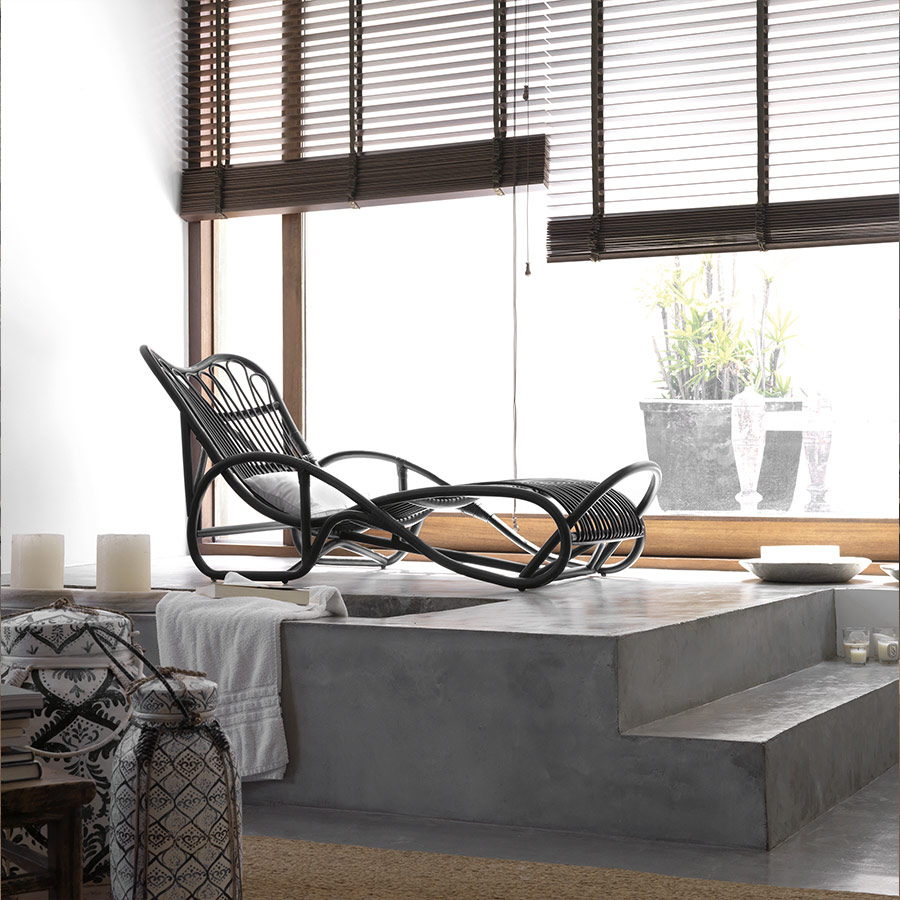 reposo
Reposo (rest), in physics, refers to an object being stationary. Everything around is subject to mutation except for it. With its undulant silhouette evoking sand dunes and its butterfly-like backrest, Reposo stares at the changing world without ever getting troubled.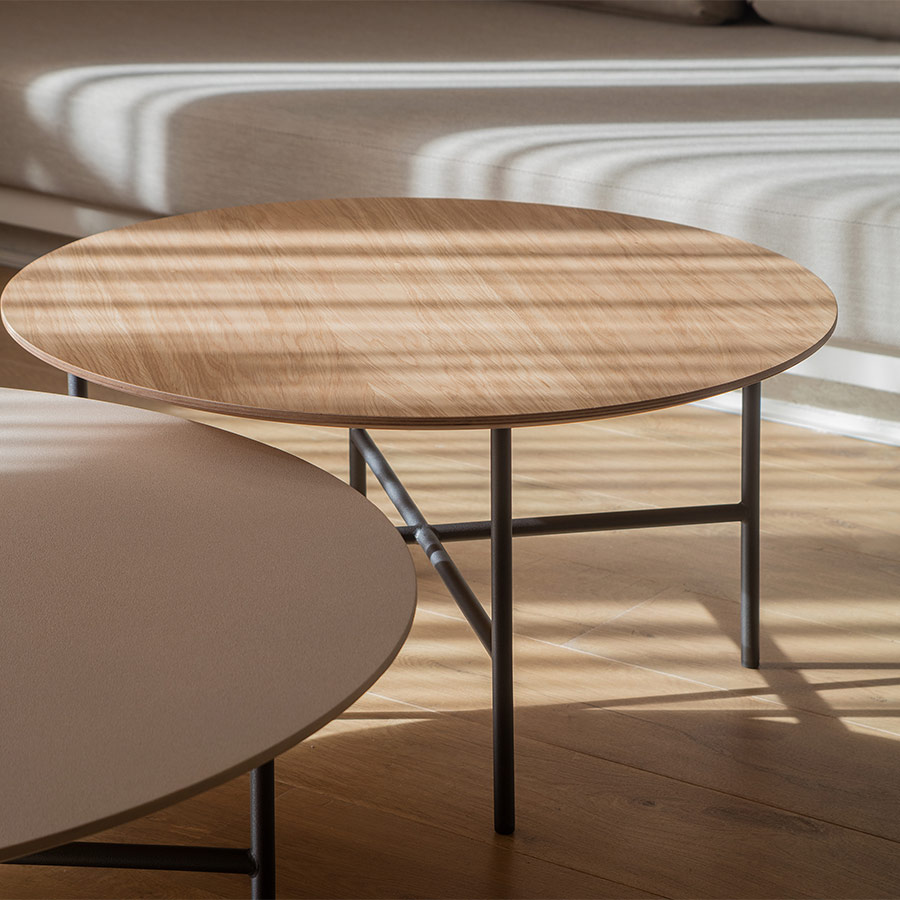 Grada
Grada is a set of side tables that can be used either separately or together, thus creating a composition. They are a most suitable complement for relaxing environments as they allow for a freer construction of space thanks to the variety of tabletops, round and square-shaped of different sizes and heights.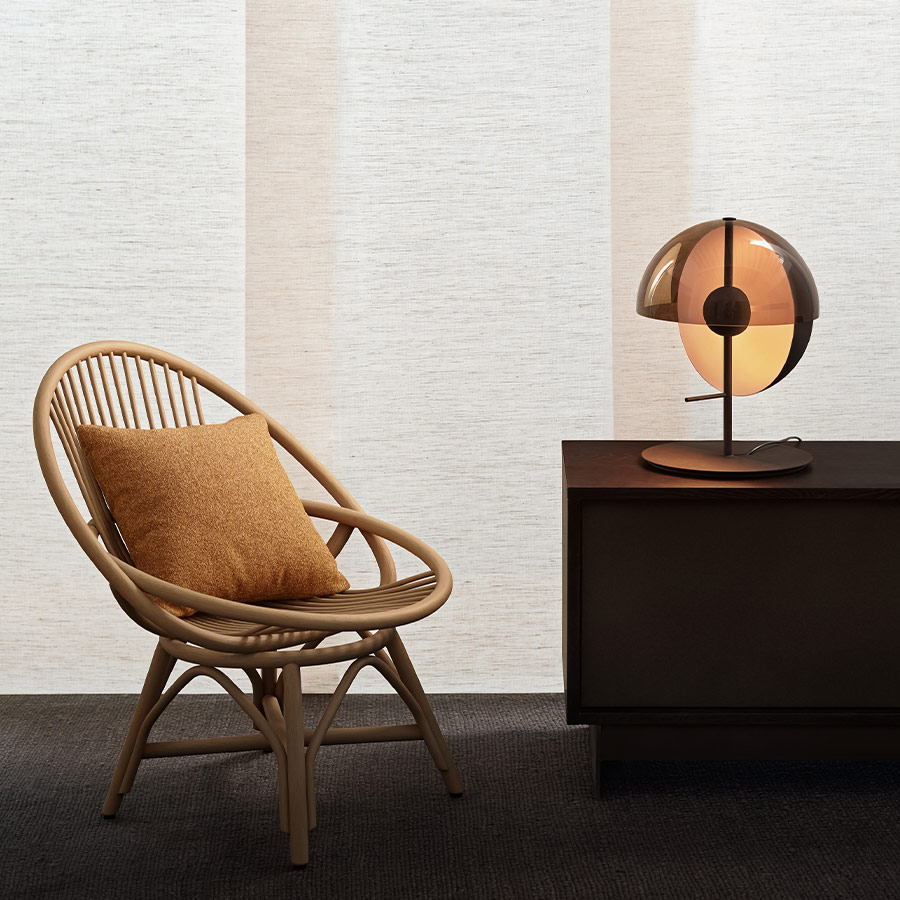 Radial
Among all the classics revisited, this piece from the 80s we happened to stumble upon in our archives is the most amusing and original without a doubt. Small and likable, its peculiar shapely silhouette evokes icons of pop culture such as flying saucers or hula hoops.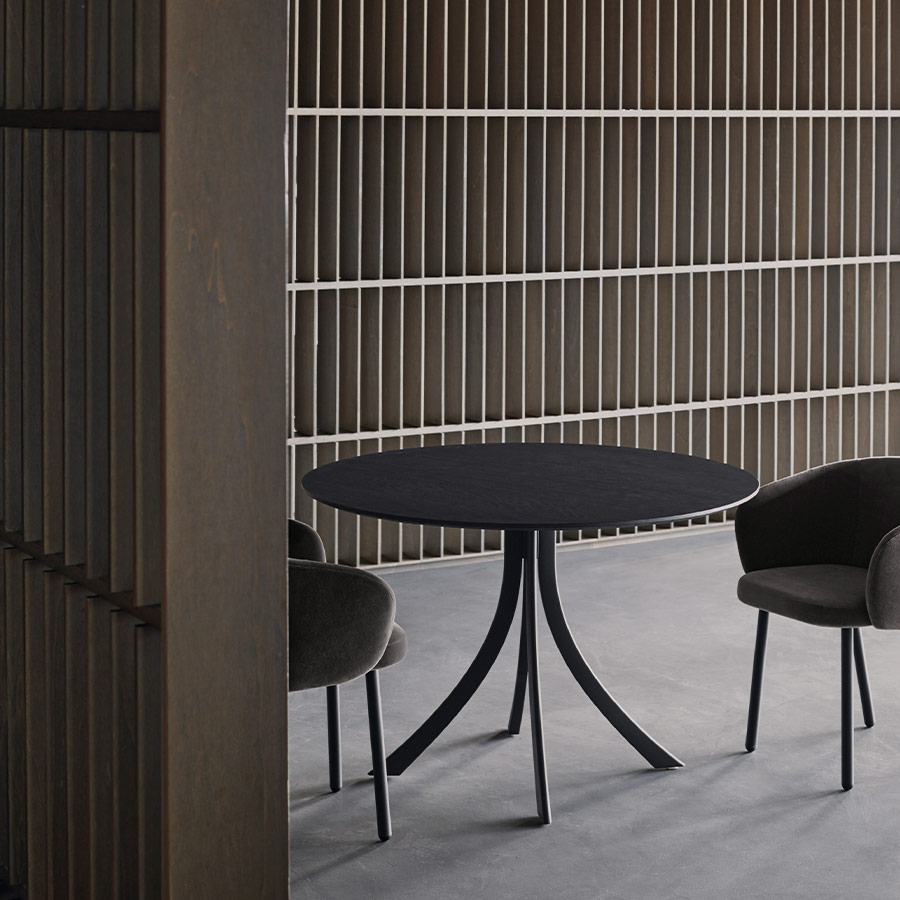 Falcata
Its name comes from tradition, but its aesthetic is innovative. Its legs of injected aluminum seem to flow smoothly just like the distinctive black ink strokes of shodō (Japanese calligraphy) and evoke organic elements.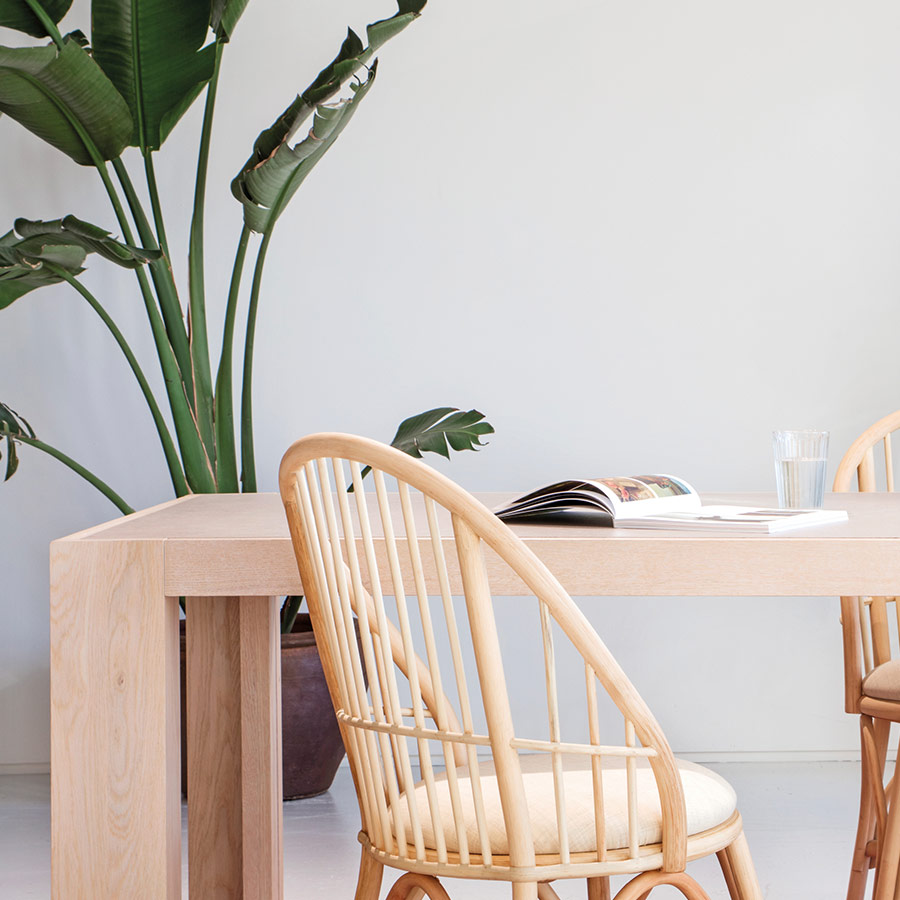 Coqueta
Coqueta holds a considerable part of Expormim's DNA. Renewed to make it more 21st century-like, its classic features preserve, nonetheless, all the purity and personality of the original design.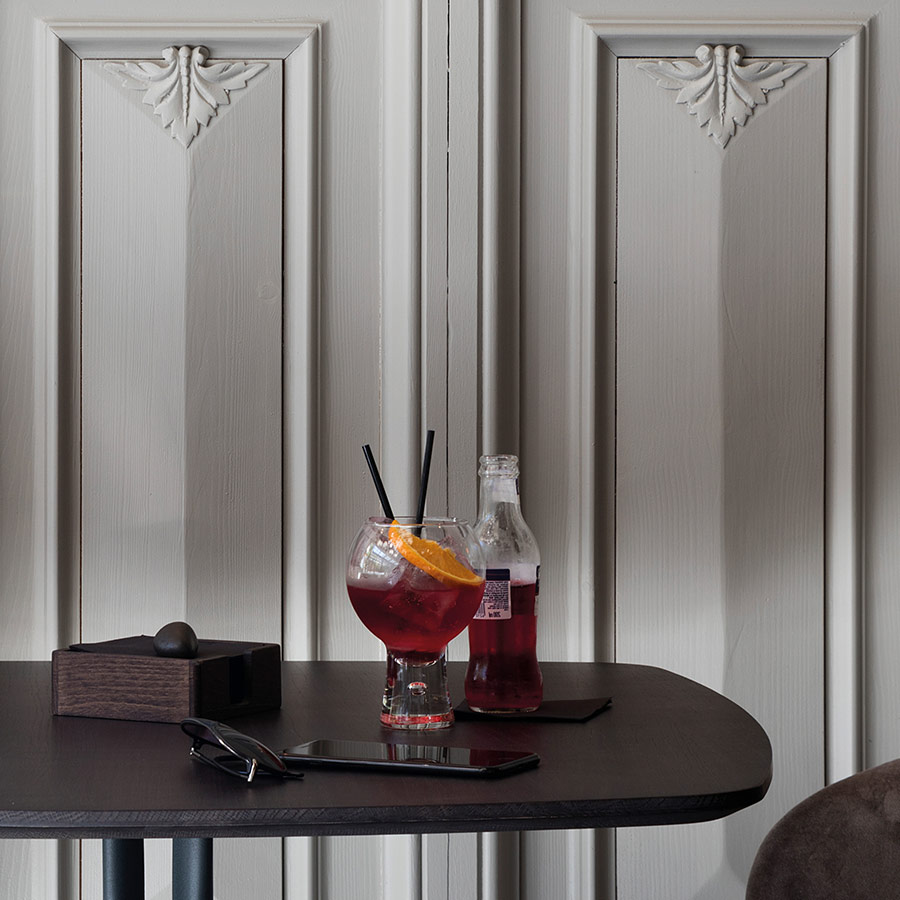 Bistro
Light and versatile, Bistro table adapts easily to the most varied environments, either a nice hotel boutique or a select restaurant. The natural simplicity in its distinctive gesture, where acquaintance and closeness meet to underline its sober and modern character, is an explicit invitation to share good moments around it.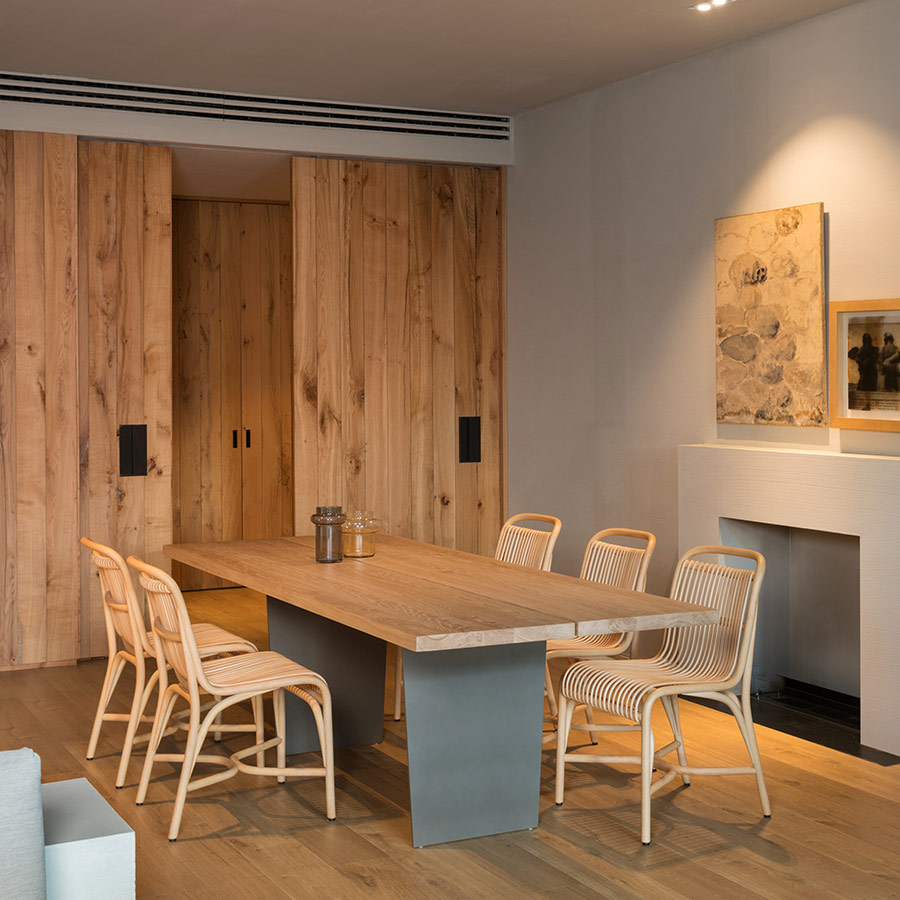 Slats
Its oblong structure reminds that of Neolithic dolmens with two vertical pieces supporting a large flat capstone, but very much lighter as it is made of thin aluminum sheets and wood slats.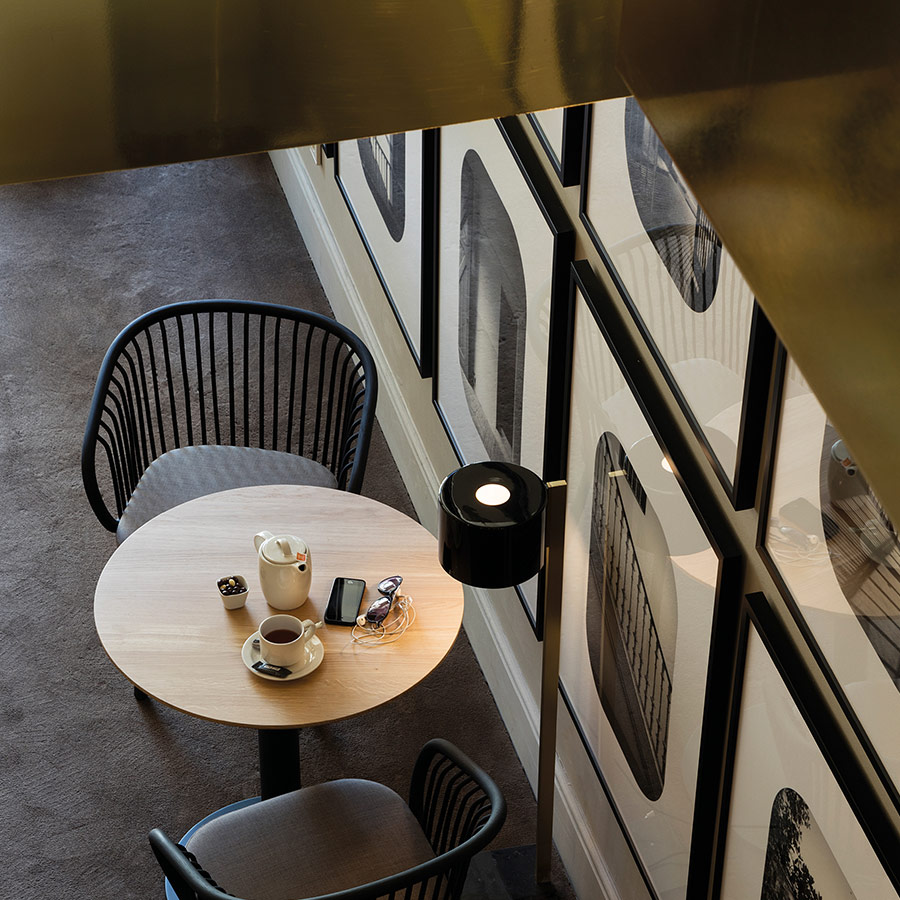 Flamingo
Resting in perfect balance upon its central leg, purposefully devoid of all ornaments and superfluous details in order to achieve a sole objective: functionality. Such is Flamingo, a piece trying to accurately materialise the primordial image of a bar table.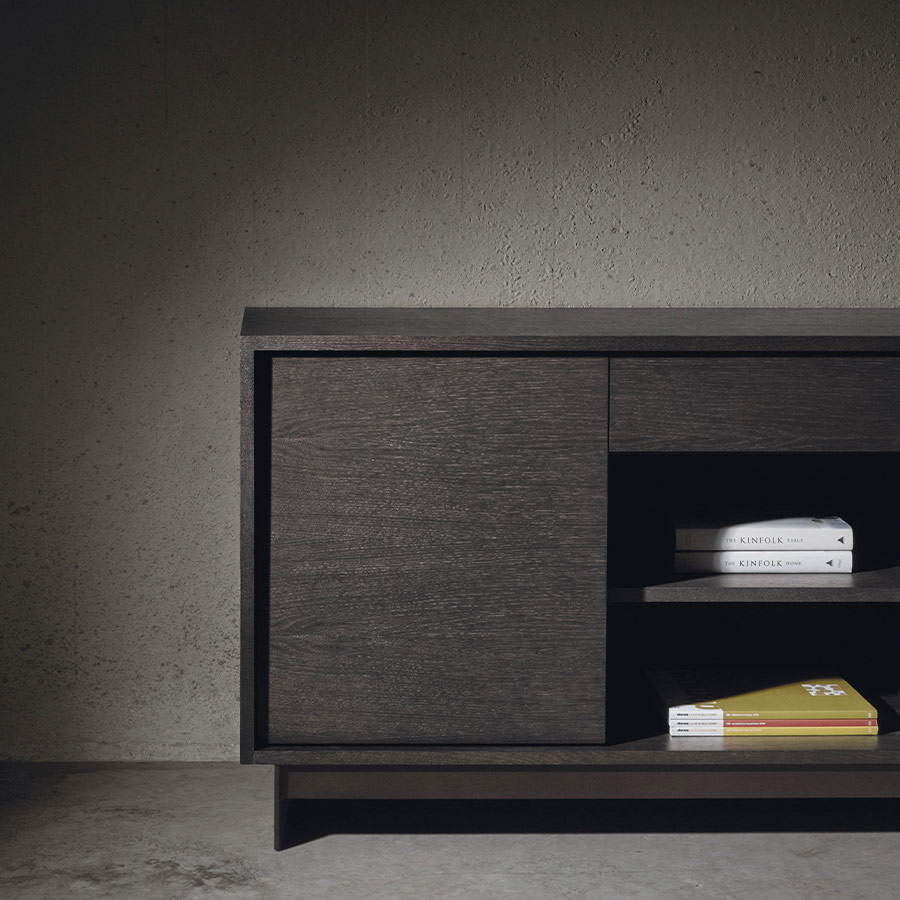 Basic
Basic collection designs are built on two fundamental concepts: one is functionality and the other, the richness of its materials. Defined by simplicity and pure lines, the sideboards, cabinets and TV stands included in this collection can be extended in terms of usability by simply adding drawers and shelf units; texture can be also multiplied by choosing either a steel finish or a combination of lacquered finishes.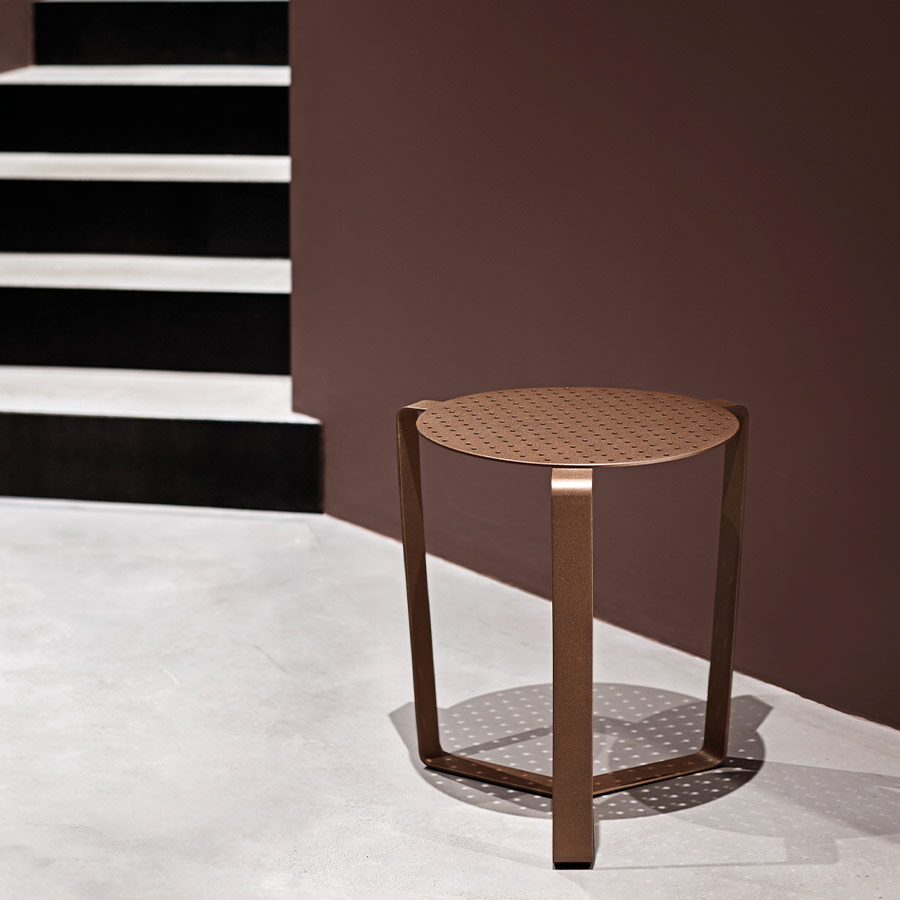 Tryp
Tryp is a small-sized coffee table. In spite of being conceived as a discreet accessory, it hardly goes unnoticed because its sophisticated aesthetic and metallic finish make it shine with unique elegance.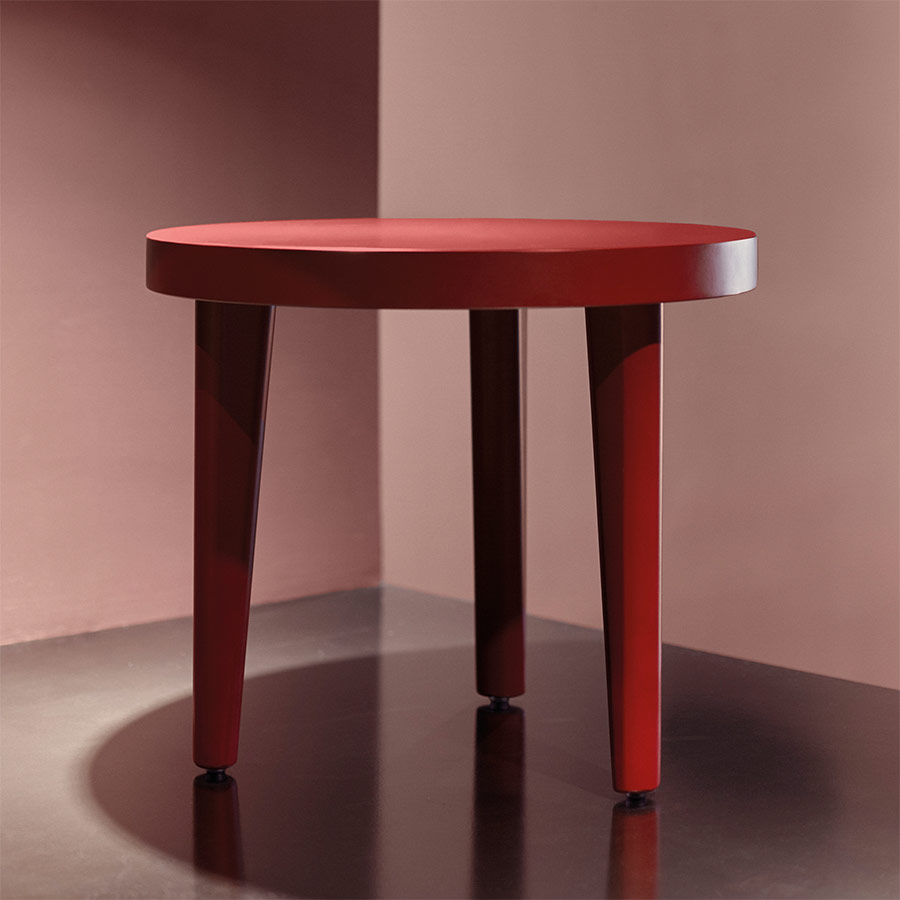 Trio
Compact and easy to handle, with its cone-shaped legs and tops of lively colours, the Trio collection carries us back to the Mid-Century modern age. Its main appeal lies in the simplicity of its design as much as in its insouciant personality, a piece as funny and charming as practical and versatile.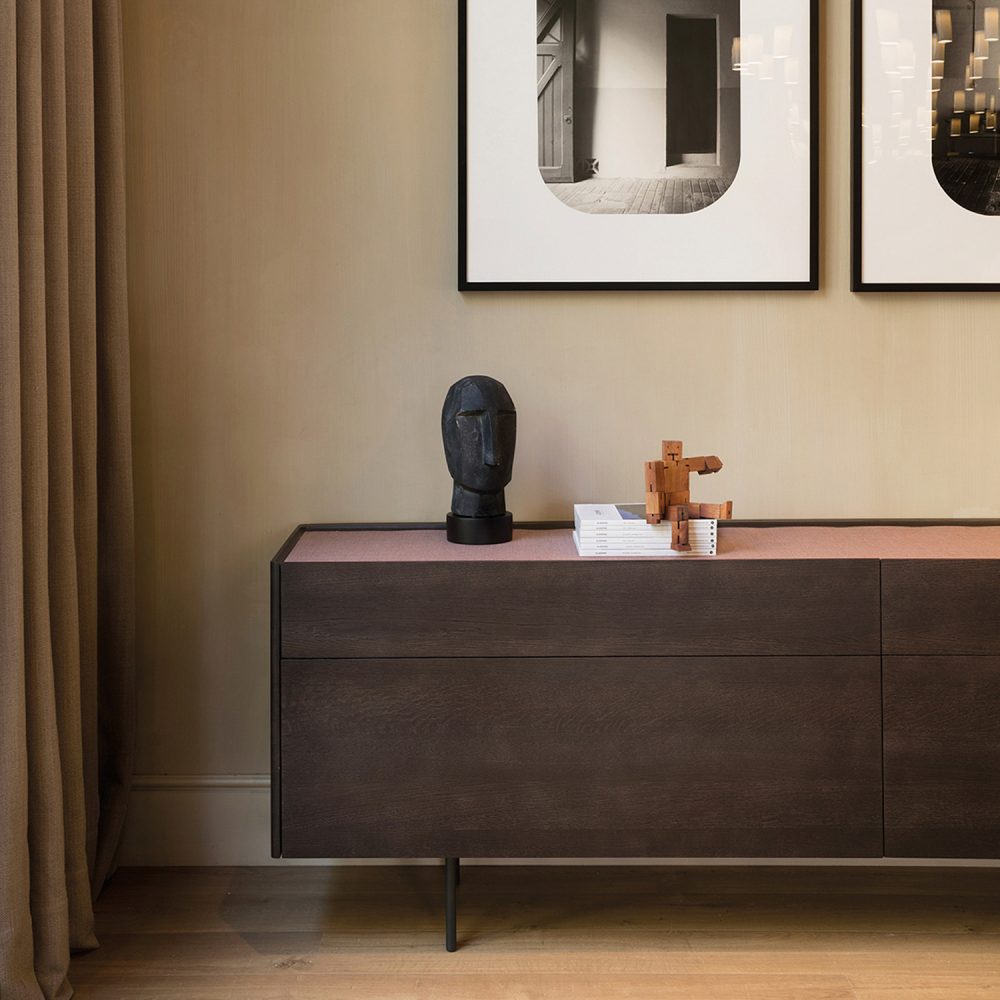 Team 4-drawer Sideboard
Sideboard made of solid wood from European oaks. Possibility to customize the top by using natural stone or upholstery.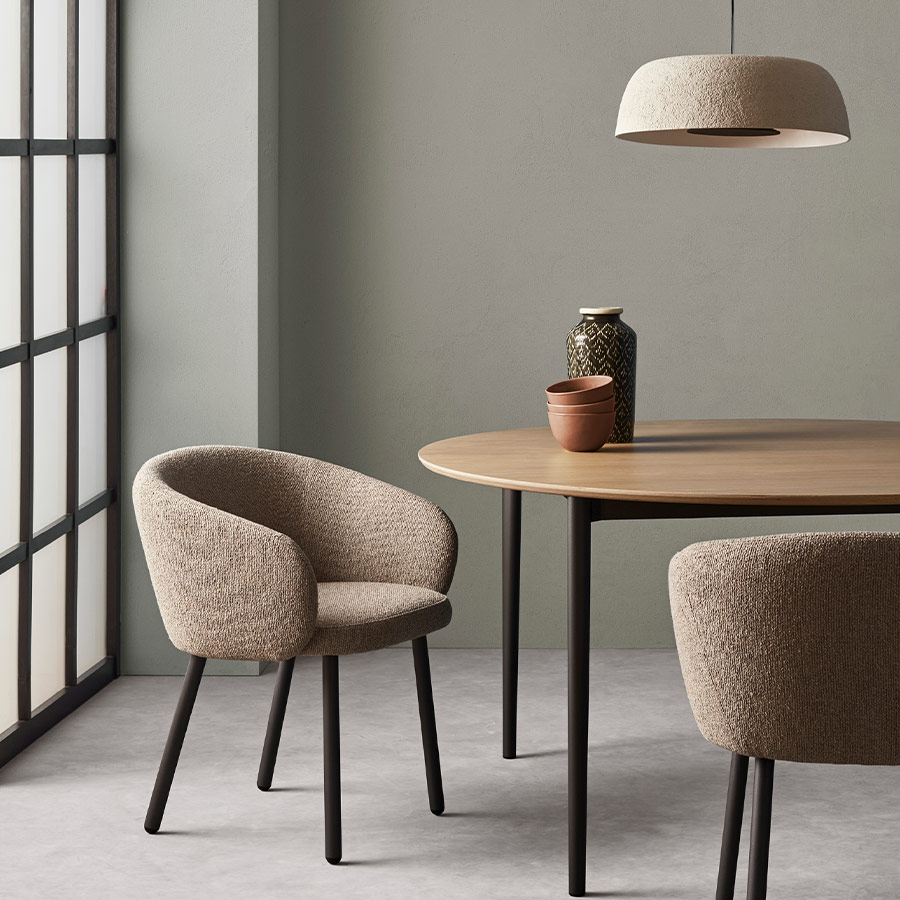 Nude
Cut loose the unnecessary to find the beauty of simplicity: in the form, reduced to basic geometric figures; in the design, intentionally austere, but made explicit through subtle details such as the cone-shaped legs or the tabletop beveled edge; and in the materials, essentially strong to secure its persistence.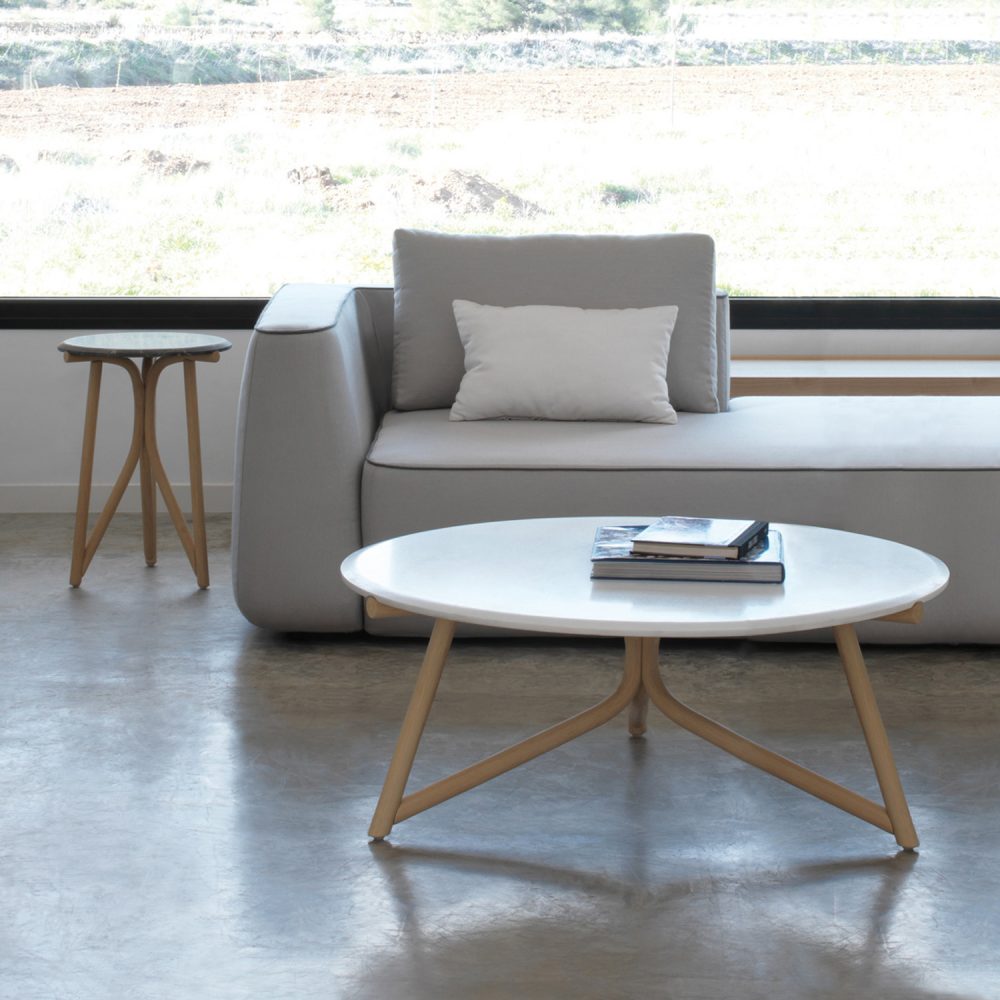 Kiri
Kiri is a set of round coffee tables combining rattan with solid wood and lacquer in an aesthetically fluent dialogue. It may be difficult to imagine how such a supple material like the rattan used to shape the base can support the weight of the wooden tops, but the fact is rattan is actually strong.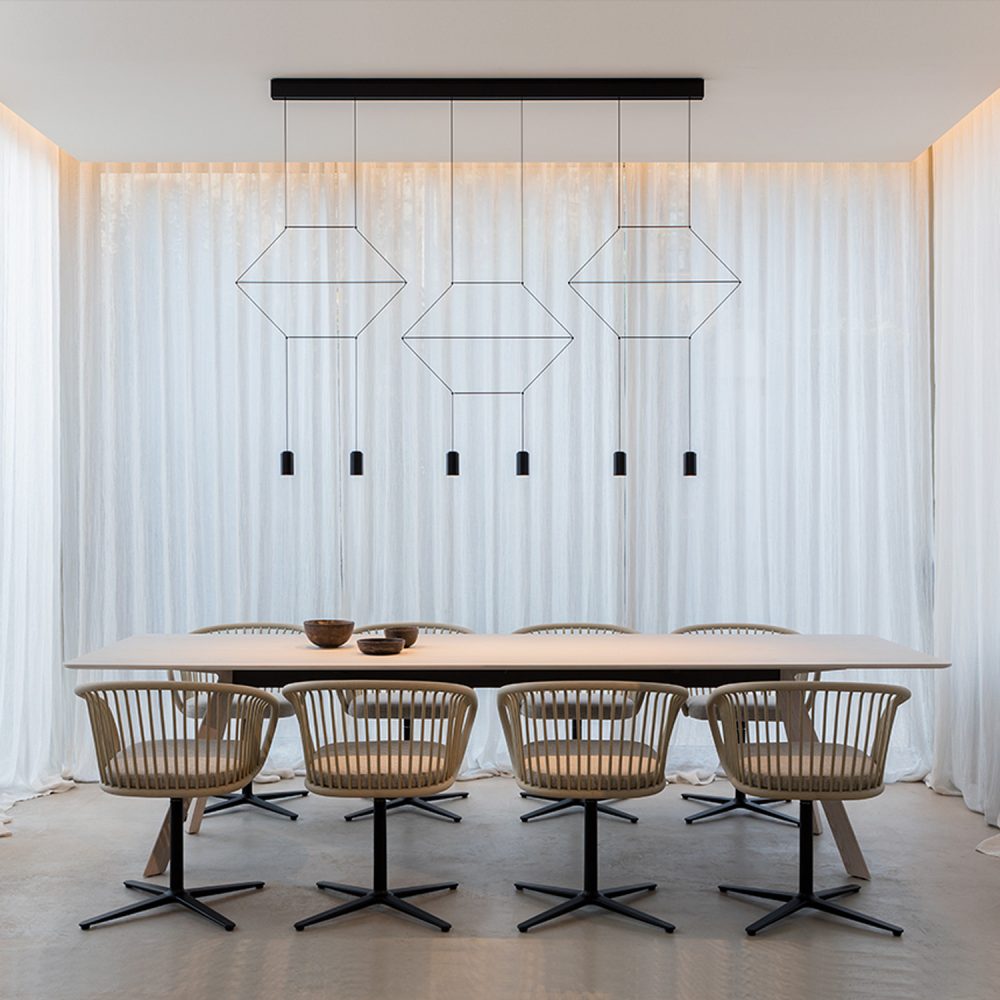 Huma
Huma armchair is a project trying to preserve the classic philosophy of the rattan production process while engaging in research for greater comfort through the use of flexible ribs in its shell-shaped backrest and its upholstered seat.
Frames
Frames have written a happy new chapter for an already old story, the same old tale of craft and tradition but within a new framework of clever design that takes advantage of a different, more joyous approach to the material. The narrative of design brings traditional outdoor furniture to the inside, adding a layer of glamour to the rustic charm of the material.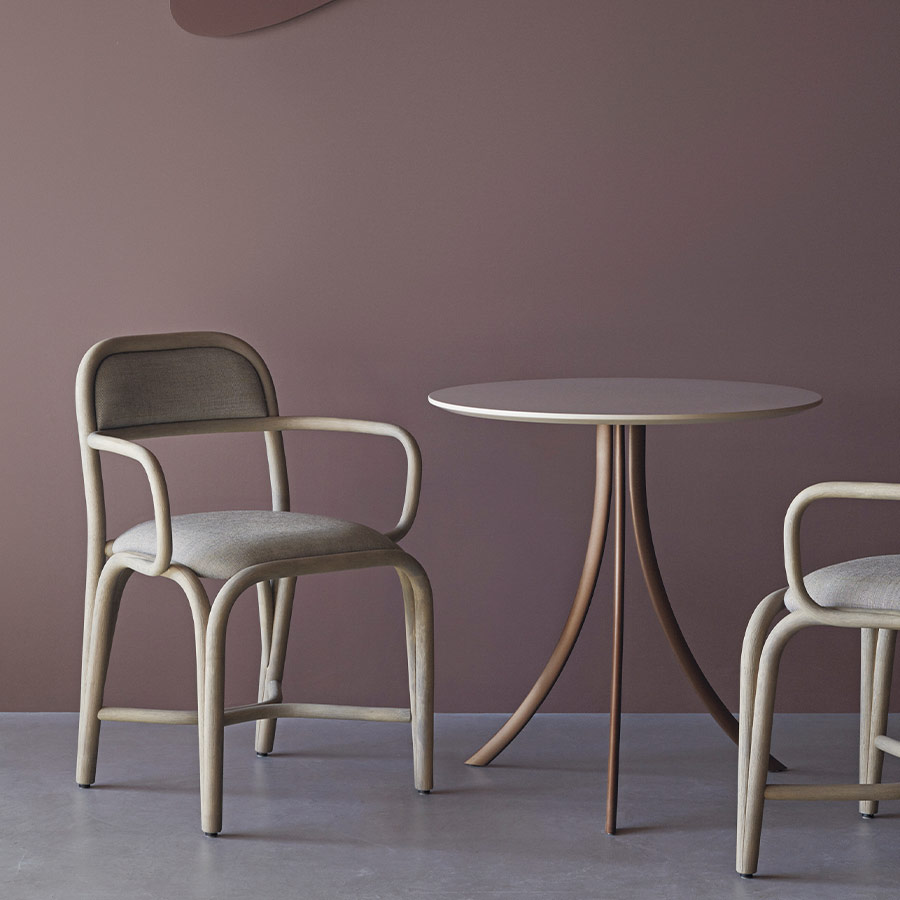 Fontal
This project is born from the wish to recover rattan as a fine material and reclaim our country's rich craftsmanship tradition. I have tried to give a new look to an ancient technique replacing the brackets and bonds traditionally used as connecting elements by the twinning of one cane to the next.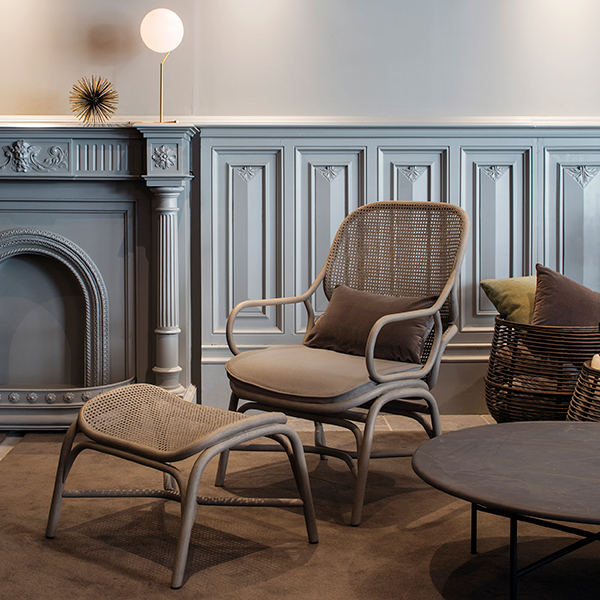 FRAMES ARMCHAIR AND FOOT STOOL
Armchair with structure made of peeled and tinted natural rattan 32 mm/1.26" in diameter. Seat and backrest manufactured in tinted natural wicker ("octagonal wicker") and legs finished in rattan or steel.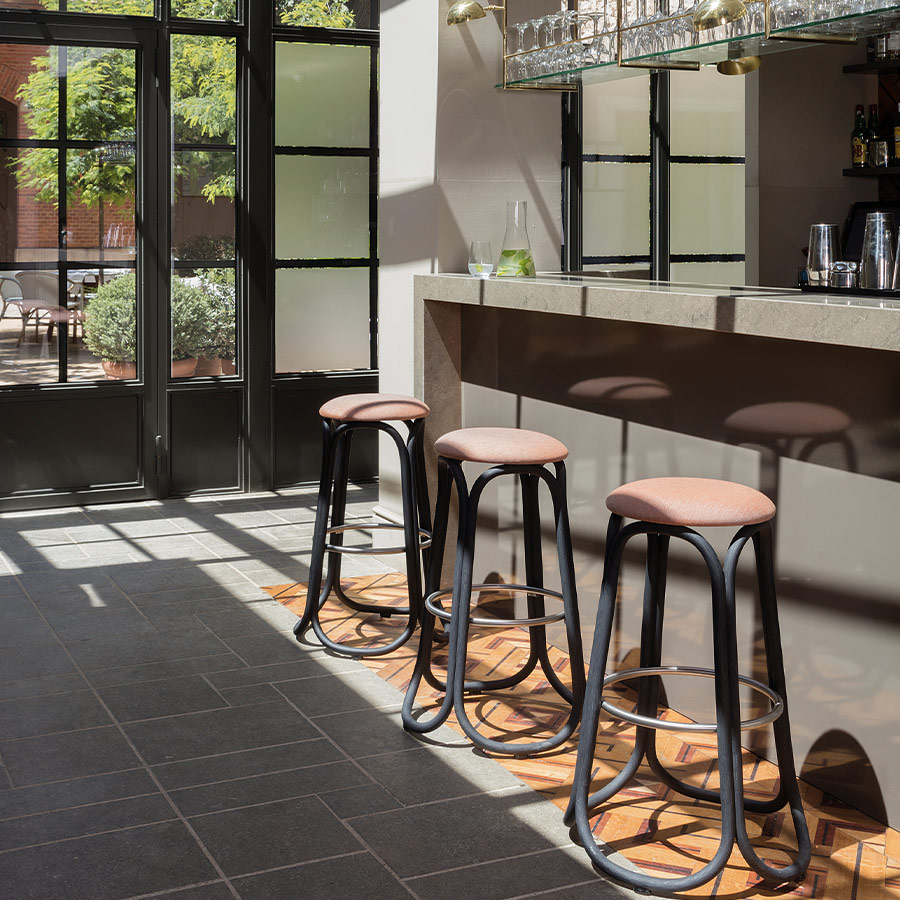 Gres
Its structure emerges from a game of tangent lines between its four organic frames and of those with the seat, thus securing stability and at the same turning it almost transparent.