GUEST CHAT – BANI SINGH
Back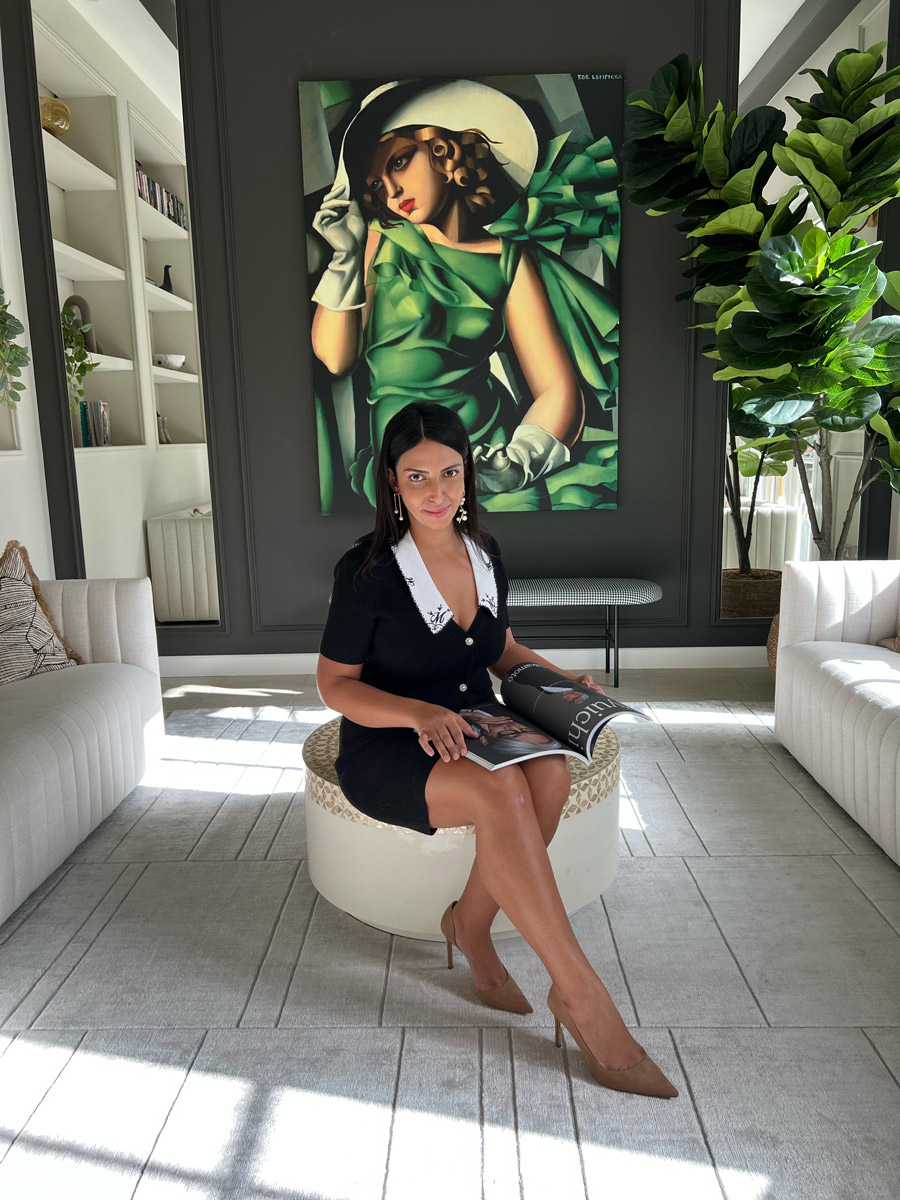 The guest talk series for this month features Bani Singh, Co-Founder of Grounded Design, an interior architectural firm that specializes in turnkey projects. With a Scandinavian style and an international touch, Bani believes good design engages the mind and soul.
1. From working with children's rights for 10 years, to a career path in Interior design, how did this change come about?
I always wanted to go to Design School, but my mom wanted me to do something high academic.  I started off as a freelance Designer back in Sweden, and I fortunately got a development project, which I decided to take on to challenge myself.
That project got exceptional feedback that got me an invite to an Interior Architecture and Design Tv Show, that was ground-breaking for me, and the exposure was life changing.
After that, I took a leap of faith and moved to Dubai. When I got here, I was lucky to have people who had watched the show from Sweden and that helped me kick start my career in the UAE.
2. What are the most profound moments in your life both personally and professionally?
On a personal level, I cherish the relationship with my daughter, she's a great inspiration to what I do, and what I want to become. She's smart and reasonable, having conversations with her inspires my artistry and shifts my perspectives. We learn from each other.
Shifting from my career in Psychology to Design and Architecture is profound and exciting because I believed in myself and pursued my passion, I'm even more grateful that I get to utilize my skills in Psychology and sociology in my artistry, this background helps me to understand the feelings, needs and complexities of humanity. And being able to work with a wonderful, talented, and supportive team has been an amazing journey.
And lastly, I would say meeting my client's desires, exceeding their expectations, and sharing those moments with them, means the world to me. That feeling is why I do what I do, it's the ultimate reward!
3. Tell us something about yourself that our readers might find surprising?
I did Martial Arts, I am an almost black belter of Taekwondo, but later I got too engaged in life and put it on hold. At some point I will get back at it. It was a great experience for me.
4. A dream project you have yet to work on.
I look forward to Designing a school someday, it would be a terrific challenge to take on and create a state-of-the-art masterpiece. It's a dream that I'm optimistic about.
5. When approaching a new project, what is your favorite phase?
When approaching a new client, the most vital part is primarily getting to understand the client's needs, interests, and passion. We examine the surroundings to determine the tools, materials and colours we need to create a balance between the client's everyday needs and their personality.
The goal is to analyze every detail, and ensuring you deliver the perfect feel and mood.
My favorite part is meeting the client's satisfaction and telling their story through design.
6. Your projects reflect sophistication, elegance and comfort equally, how do you achieve this balance?
Grounded means well balanced and sensible, that's what my design is about, we use earthy materials and design with nature in mind to create well sensible and balanced spaces. We mix and match, contrast different elements to create a symphony and balance. I try to find a balance between materials, colors, and practicality.
7. The Victory Heights Villa project is spectacular; can you tell us more about the inspiration behind it?
This project was inspired by the couple, the wife was Swedish and wanted a Scandinavian design style (my forte), and the husband had a modern and contemporary vision for the house. The mix of their personalities, tastes, and background was harmonious. The wine cellar for instance is a feature inspired by their love for wine, we created a statement piece to match their personality.
8. What makes a good design?
I would say a good design is practical, honest, authentic, genuine, and original. The thing about design is you need to express and experience, make it speak to you. Regardless of your style, always stay true to yourself.
9. Your design style is a combination of a Scandinavian approach merging seamlessly with other design trends, can you elaborate on that?
Minimal design style but also a mix of an international vibe. I love contrasts, I believe if you have excess luxury, you need more simplicity, and if it's too simple, then you spice it up. Simplicity exhibiting elegance, sophistication and well balanced.
10. With so many designers in the region, what makes Grounded Design so unique?
We have a philosophy in Grounded Design that "Less is more", because less can be impactful too. We design, so the space is not loud, we make it whisper instead, but the whisper stays very long because its impactful and significant.  The goal is to create the right feeling and ambience, so your living space matches your personality, and tells your story. I believe this philosophy make Grounded Design unique.