Guest Chat – Dr. Mario Rossi
Back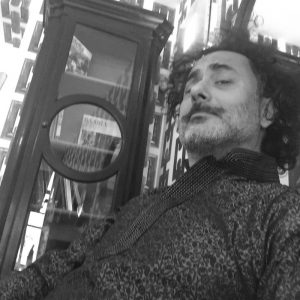 Mario – Italian but born in USA – yes it is complicated – is by his own description a "gentleman from the South" of Italy.
AmbientStudio was founded in Italy in 1991 and has been the multidisciplinary professional firm of Mario in Europe, USA and UAE. The company is now based in Italy and UAE with projects and cooperation's with teams all over the world.
They provide ideas, knowledge and design for urban planning, natural & urban landscapes, environmental consultancy, forestry & natural restoration and lots of landscape architecture. All from conceptual design to supervision..
1.  How has your culture and background been reflected in your designs?
I am proud of being an open minded Italian from the South of Italy, conscious of our amazing heritage – I am an active Meridionalist – all thanks to my Parents, feeling honored of our centuries old traditions along with our rich and unique background and know-how.
My roots are in a Mediterranean international influenced environment where art, music, literature, food, science, are interfused.
Respect and curiosity for humanity are the pillars of my research for design interventions, often with others, all in consideration of the constant universal research for Beauty as way to transform the world, one piece at the time..
2. What is the most exciting part of your job?
The research and the satisfaction of knowing that we can transform a dream into reality thanks to our Team, fun to be working with, smart, kind and always ultra patient with me.
We're all seeking to achieve profound goals in the name of Beauty.
The desire of beauty is embedded in all our actions and we know this is the engine powering us towards success and peace..
3. One piece of advice you would give to young architects?
Observe, listen, ask questions, talk. Take notes and sketches, don't solely rely on the internet for your researches. We cannot stand the ones we call "googlearchitects" at our Firm, copying from ( what we call ) the web leftovers.
Libraries, books, archives, interviews, surveys are the base of every serious project. The genius loci is over there awaiting to tell You something. Look and dare ask.
Using and combining crowd sourcing and social media, especially for master plans has always helped us. Users might have better ideas than owners and CEOs.
4. What are the biggest challenges you have faced when working on a project?
In high end and fast track contest and times such as the ones we operate with, it is common to have demanding clients and we welcome them all. When we can discuss directly with them is ideal. Sometime the challenge is the middle men's attitude, the pre concepts (free design!!!) and unrealistic demands – read schedule – clearly clashing with reality and good practice. We always try to convey good sense into them with better phasing and by matching them with skilled and qualified contractors, sometimes its not an easy task.
5. Any upcoming projects where you see Purity products as a perfect fit?
We always think of Purity amazing brands to complement and enrich our projects, from residential to hospitality. Currently we do have different projects where we have specified your brands, such as NeroSicilia for the hardscape along with Paola Lenti, Expormim, Boffi for the outdoor kitchen and showers and the new amazing lights from Karman. Presently we are working on what we call Purity 2 – aka Boffi Studio, the new showroom on Jumeirah Road in Dubai. Stay tuned as it is going to be very interesting since connected with Purity one, which has already relocated there one year ago. We designed that one too, in cooperation with LSD.
6. One thing about yourself which our readers might be surprised to know?
The fact that I am also a proud forester, a trekker and I was/am(?) a mountain bike pro. Now a Meridionalist convinced of the importance of a new proud South Italy taking its future into his own hands. So much to discuss about this.
7. Do you prefer a hand sketch or digital?
Old school here, sketching is what I do first, any kid can use a software but if you lack knowledge and skills that will surely be visible in the renders. I have studied art and manual drawings were paramount. Our team is highly skilled at that. We do of course model, starting from Revit all the way into Lumion 3D.
You have no idea of the horrors we see in the renders 🙂 and I have a collection of those monsters ( by others ) that sometime I use, especially when teaching classes at Universities as a Lecturer.
8. Favorite coffee shop in Dubai?
Actually I became a decaf kind of coffee drinker, not a big coffee fan, except maybe hazelnut coffee. I have a spot I do like: yours 🙂 @Purity where the ginseng coffee you made is amazing.
9. A project that you have yet to design, but would like to in the future?
A new park for botanical uses, connected with a serious program for teaching and where people can adopt trees, learn about them, care for them, where elders will be remembered, think of my teacher tree, my parents tree, the newborn tree, et cetera, open to all and where to learn the importance of natural elements.