Guest Chat – Monica Arango
Back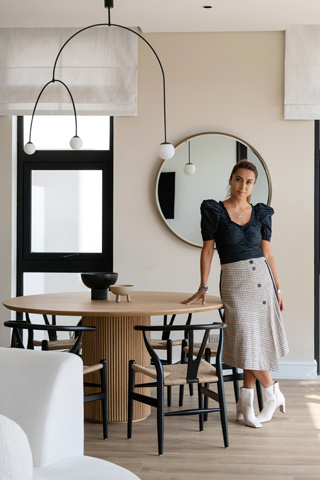 We are pleased to welcome our guest, Monica Arango, founder of Dubai-based inter-disciplinary studio C'est Ici.  Since 2017, C'est Ici has carved a niche for itself with its unique design philosophy that embraces imperfect beauty and the mixing of unexpected, opposing, offbeat elements to create "thoughtful designs that bring people together and transforms little moments into lasting memories."
1. It might come as a surprise to some, but you were a practicing lawyer. When did you realize you had a talent for interior design and decide to shift professionally with opening your own studio?
Since a very early age, I have always had a passion for all things interiors and creating uniqueness out of nothing.
I don't think that there was a specific moment in my life that I realized that I had talent for interior design. My passion and love for what I do now, has been an amazing journey and evolution since the moment that I shifted careers. That said, I feel that one of the most defining moments within the transition was a personal project in France. My husband (aka) first client encouraged me to design, procure and execute our place in the midst of Nice. I took the project quite seriously and develop the concept design and procurement from Dubai using French brands. Once the project was finalized, we both flew and did the installation. It was then that my husband said ''C'est ici" – IT'S HERE where you belong, you should do this for other people…. and the interior journey begins. On these lines, I will say that it was this specific project which gave me the confidence to start something new.
2. Changing careers takes a lot of courage, especially in a market like Dubai with so many excellent designers. Did you feel it was challenging to get recognized?
C'est ici has been a home grown business since the beginning. To be honest, when I started, I didn't have a specific plan or didn't see what our future was going to be. There was a business plan with an unknown future.  At the end, a startup is a little bit of gamble and the one thing in my mind was to trust my design vision. My focus has always been doing things with passion and love and the universe will take care of the rest. I feel that there are amazing peers and competitors within the design industry, and I feel very proud when I see our competitors doing amazing things, is part of our inspiration process. One thing that is at C'est ici's heart is creating unique spaces with that differentiating factor that identifies that C'est ici style.  I feel that the recognition in the industry was within these lines, 'a different approach to design, when you maximize the experience from every single angle'. We have carved spaces for the experience, for a dose of relaxation, exploration, and inspiration, each with a different feel yet visually integrated. In the end our aim is to create balance, harmony, and flow within our busy lives. I feel that uniqueness gave us a place in the market.
3. Cest Ici definitely has its own unique look. What do you want clients to feel when they walk into their Cest Ici designed home?
We want them to feel at home with an elevated touch. C'est ici is an interior design studio focused on telling different stories. We believe that every design should tell a story that creates feeling of happiness, comfort, and that unique approach to all our designs.
Our design philosophy encompasses beauty that is not perfect. It's unexpected, opposing, inexact, offbeat but most importantly it has the main essence of passion and love for what we do.  Our designs are experiences in every single space. Should not be decorative and interactive with your emotions. C'est Ici applies minimalist principles to create this practical yet chic design reflecting our brand's signature style of an interior, one that elegantly incorporates the client's personalities and aesthetic.
While we have a very defined aesthetic, we ultimately seek to create beauty. We are constantly searching for that unexpected element to add cohesion and contrast across all realms. The last-minute changes and decisions make our aesthetic unique for every client. Our focus is to bring design to life and creating something different out of the ordinary but very close to our client's DNA and origins. While we have a specific aesthetic, we are very open minded when it comes to style. We create the perfect cocktail when it comes to creating homes. We love the unexpected and we focus on implementing something different in every project.
4. To date, what has been your favorite project?
Oh No! This is like asking which is favorite child. Honestly, all my projects have been a great journey of development and new opportunity for the studio. That said, I must admit that there are certain projects that have been a defining moment for C'est ici's timeline. I will have to say that from our residential portfolio 'Palo Alto' was our baby for a long time and brought us to another level within the design industry – dream project and client. As for the commercial side ''The House''  a 300-square meter coffee studio in Sharjah as "an antidote to our fast-paced, on-the-go culture." This full-service turnkey project by C'est Ici, right from design to execution, was completed within a period of 9 months and handed over in September 2022. A space for quiet contemplation and deep connection. The House is a sensorial experience where visitors can soak in the calming smells and sounds of premium coffee being prepared, poured and enjoyed.
5. In what ways does Cest Ici implement sustainability in projects?
Like in every C'est Ici project, the sustainability aspect of this project too lies in the proudly made in the UAE approach for all customized elements. C'est Ici's bespoke furniture mingle with a curated selection of high-end market pieces from local crafts to create an atmosphere of homely luxury. Most of the brands and design pieces that we procure have always an element of sustainability.
6. What influences your work?
I feel that this a very broad question, there are so many factors that influence our work. Firstly, I think the passion and love for what we do is a big influence and drive to create something unique. I feel that understanding our clients and discovering their design journey has a great influence in our design process. Ultimately, we want to create an experience that is not just reflected in a piece of furniture or wall but the togetherness of all. In addition, we have a long list if interiors designers and architects worldwide that influence our work. Some of our favorite include Joanna Gaines, Kelly Wearstler, Peter Marino, Jonathan Adler, Roman and Williams Axel Verwoordt, Althea Calderone and the list goes on.  We are very, much influence by multicultural and international approach to design in different places worldwide. In fact, we named our projects after cities around the world, which influence the Aesthetic of the project.  Ultimately, we take influence from our travels, design fairs or simply an outing in the garden but I must say that our main influence is drive by all things that are not perfect.
7. Can you tell us what you're working on right now?
All excitement and candy for our daily dose of interiors. I wish I could reveal all our projects. This year, we have been involved in some secret projects, where I have signed NDA and can't really talk about. That said, from the residential angle, we have been working on some amazing gems, where we have been able to design the C'est ici way from shell and core to something unique. We are moving towards a different angle within our design aesthetic with an oriental influence which has been really exciting. From the commercial angle, we have finalized THE HOUSE, employing a minimalistic approach, the design house fashioned a youthful, upscale studio that speaks warmly of the client's deep knowledge and passion for coffee. Everything from the spatial layout to the colour and texture palette, curation of furniture, accessories, lighting and finishes all come together to create a tranquil space where guests can immerse in the storytelling and discover the journey of coffee from bean to brew. Soon, you will have a glimpse at our latest projects.
8. Over the years, how has your design style and approach evolved?
I believe that our design aesthetic has been an amazing journey of growth and evolution. C'est ici is known for a signature minimalistic style and we take pride in crafting chic, out of the ordinary spaces whilst incorporating aspects of their client's personality, aesthetics, and heritage into the design. I believe that if we look at previous years, our projects have all a common denominator of togetherness and uniqueness which is very much our trademark. That said, our design has evolved and matured. I believe that our knowledge and experience had an influence of growth in our designs.  We love creating that visual story to engage the eye with our interiors and I feel that innovation in our designs would be always part of the process.
9. What advice would you give to young designers?
I feel that within the creative industry is very rare to find someone that dislikes the job. Often designers choose the career for the passion of design, which is fascinating. My advice would be exactly that, follow the passion with hard work and commitment. Set aside your ego and be humble in the process. One tiny advice, stop comparing yourself to your peers and make something unique. The universe will take care of you.
10. If Cest Ici had a five-year vision, what would it look like?
I have a meeting with a financial advisor to target this one.
For now, C'est ici's team has been an absolute blessing. From our designers, draftsman, administration and business development, everyone adds so much to our business. While we have exciting plans, our main purpose is to grow the business organically. Focus on quality rather than quantity and emphasize in our team internal growth for now. The aim is to make the base very strong.
From a business point of view, we have great plans to expand our portfolio within the commercial industry. I feel that the team is ready to take new challenges and engage in new design adventures.  I feel design is at its peek and evolving rapidly within the region, we are excited to be part of this growth. In addition to this, in 2020, the studio started Cèst ici Bespoke to address the lack of quality bespoke furniture in the local market. This specialized arm of the business, with services ranging from upholstery, to carpentry, stone and steel works, focuses on designing and producing unexpected custom pieces, where no two are the same. We aim to expand this angle of the business.
11. During your visit to our Villa in Jumeirah, are there any pieces that caught your eye?
Firstly, thank you much for the amazing morning! Honestly, one of the best curated spaces in Dubai. What can I say, you curate all my favorite Italian gems. Let's start with the sophistication around 'Boffi Kitchen's'. I have always been a fan of the masculine and minimal approach to their design. It is definitively in our list for our next projects.
Now, let's move to the outdoor gems by Paola Lenti. Amazing, curated pieces that speak for themselves. The collection not only offers an exquisite design meets comfort. I have known the brand for years and is so great that Purity represents the brand here in the UAE. Given the extensive references and specification within one piece, is great to have the support and expert advice for our clients. Lastly, no words for DEPAVODA……. simply magic.