GUEST CHAT – NIZAM A. BAKI
Back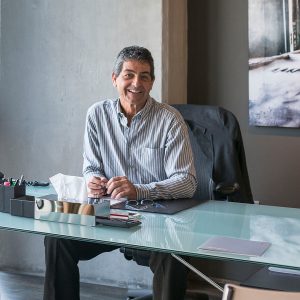 We are closing the year with a distinct guest, PURITY's very own Managing Partner, Nizam A. Baki. With over 35 years of experience in the building industry, his main objective has always been to satisfy the growing market demand for Luxury and high-quality living solutions, with the launch of Purity back in 2004.
1. What does PURITY represent?
Coming up with our brand name, "Purity", was a long and a little strenuous process. We wanted one word that stands for clean, minimal and refined. Although, back in 2004, there were very few in the Emirates that shared this vision of "Unique Living Solutions", we have always been highly selective with whom we partner with and whom we represent. Since the beginning, our clients expect a premium level of brands and services, and a company that reflects their refined taste and lifestyle, which has always been our ethos.
2. What makes Purity different from other high-end distributors in the region today?
I am proud of our long-lasting reputation, which speaks volumes to me as a business owner. We truly go above and beyond to satisfy our customers. When it comes to bespoke solutions, business transactions take time. Many meetings with the client are conducted to finalize every detail. This process further enhances the human aspect and builds solid and pleasant relationships. For example, many of our previous clients pass by our showroom for a quick coffee, which we see as a success.
3. Where did the idea of opening Purity come from?
I've been in the UAE since the 70s and witnessed the potential and speediness of its growth. It was clear that the future of the UAE was bright in every aspect. With superior residential and high-end commercial projects on the rise, it was a great business opportunity. With my partner, Khalaf Sultan Al Daheri, we took that step in opening Purity.
4. Was it challenging to obtain your top brands?
The short answer is yes. It was a challenge. The brands we work with have an immense presence around the world and a long history in high-end furniture, in addition to collaborating with iconic global designers. However, when two companies share the same values, what comes after is a logical and organic partnership.
5. With over 35 years in the UAE, you have seen tremendous growth in this country. How would you describe the opportunities it has presented?
The UAE is a proud nation, as it should be. It has gained the world's attention in a short amount of time, and people have flocked from all over to be part of this still-growing country. They have a vision and have worked steadily to achieve it.
6. Purity exclusively represents a selected few internationally known brands. Are you planning to expand Purity's portfolio of brands?
We are not concerned about having a broad portfolio of brands. Instead, we select a few that align with our brand vision and are 100% dedicated to those. Purity is a boutique company for a reason.
7. In an interview with a design magazine, they called you a local legend. What makes a legend in business?
It means a lot to be seen as a legend. However, I cannot take the credit alone because I have always had a team I can depend on. As a company, we are all aligned in our business ethics. I believe our reputation of being an honest business makes someone a legend.
8. A perfect day for you would be..?
A perfect day would be one I spend with old friends and family in my hometown Ainbal in Lebanon.  Surrounded by the vastness of mountains and nature will always be my most precious moments.
9. Any news you'd like to share with our readers?
In the past year, I am proud to announce that we have launched our furniture showroom in Jumeirah and relocated our Boffi studio to the same location. Light Space Design and Ambient Studio together created a space I'm very proud of. We've turned two old villas on Jumeirah road into an inspiring breathable space with luscious gardens, where our furniture is elegantly displayed.
10. What are some recommendations you would give young entrepreneurs? 
You should be passionate about whatever you decide to pursue first. Nevertheless, this alone is rarely enough. A good plan and lots of hard work and dedication are key, in addition to surrounding yourself with like-minded people.
11. What would clients expect from the service at Purity?
We go above and beyond to provide the best customized service for our clients. Not many people know this, but a few years ago, we delivered a Boffi kitchen top using a helicopter to a client living in Dubai Marina. Unfortunately, there was no way to fit the top through the service lift and we had no other option. That was indeed an exciting and unforgettable moment for the client and us. On another occasion, a  client wanted to try the Le Cob bathtub from Omvivo, so we shut down the showroom and gave them privacy to experience it. Needless to say, they were happy with their purchase.