Guest Chat – Urjowan Alsharif
Back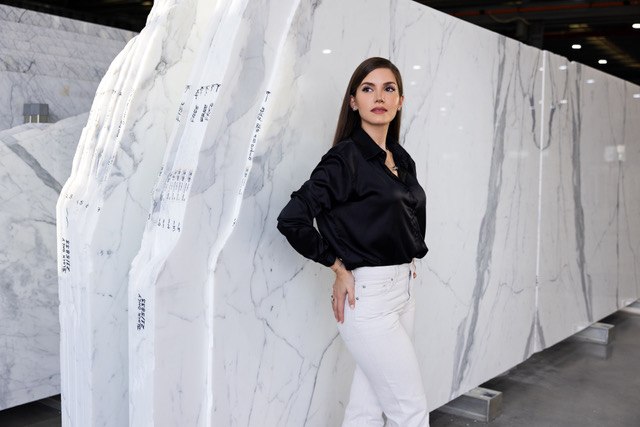 In this issue of Guest Chat, we welcome Urjowan Alsharif. Studio Urjowan Interiors, of which the Saudi designer is the founder and creative director, focuses on residential, commercial, and retail projects throughout the GCC.
1. At what point did you decide to pursue a career in interior architecture?
My grandmother owned one of the first traditional bridal boutiques in Saudi. The heavy gilded textiles and vibrant colors of the gowns fascinated me. I loved spending hours with her looking over different traditional outfits, every area in Saudi had a different custom and every dress had a different historical significance. Early on I was always drawn to art and knew I wanted to do something in the creative arts field. After graduating from Dar Alhekma University in Jeddah, I then attended the Academy of Art University in San Francisco for my Masters in Interior Architecture. I later moved to Dubai and started working with international design firms before starting my own boutique studio.
2. Where do you find your inspiration?
My biggest source of inspiration is travel. I love antique book stores and old streets. Historical buildings inspire me as well as modern architecture. Magazines, design fairs, and art shows too. There is so much inspiration to be found outside of the studio.
3. For one of your luxury projects, you selected a range from Purity's Ritmonio Italian brand of taps, what made it your collection of choice?
The sleek Italian design fit the aesthetic of the project perfectly; we went with the Diametro 35 in matt black for all 12 bathrooms of our Kuwait farmhouse project.
4. What has been your most exciting project to date?
The private boutique resort in Kuwait Wafra farm area would be it, which the studio has been involved in since the early days of the conceptual architectural planning in 2019. The project consists of 2 buildings with single story. The private farm home includes 12 bedrooms, private farm with 4 courtyards, a gym and a cinema room. Working with a challenging climate like Kuwait has been a beautiful learning journey and we are now very excited to successfully handover end of 2022.
5. A typical work day for you would be…?
My perfect work day starts at 6:00 am with school drop offs then the gym, before I start at the studio with the team. By evening I am fully disconnected for quality time with my kids. I find balance in dedicating time for myself, my work and my family.
6. How do you approach a new project?
Each project comes with a new story, we build on an existing narrative whether it is the spatial program, geographical location or family history, no two projects are the same. Fundamentally, the studio's design philosophy is rooted in research and exploration to provide bespoke solutions for each space.
7. If you had to describe your design style, what would it be?
I don't like to limit our work to a style, our projects take shape based on their requirements. I would say we focus on a balance of forms, textures and materials. Going through our portfolio you will see overtime how our signature line carries through different styles.
8. This issue focuses on Purity partners' novelties introduced during Salone 2022. What is your interpretation of this year's Design Fair?
Salone del mobile this year had a particular focus on outdoor design; many brands introduced outdoor furniture for the first time this year. The highlight for me during Milan design week was Fuorisalone and walking around the Brera district. The mix of galleries, art installations, open showrooms and design popups, inspiration was everywhere. One of my favorite installations was the Paola Lenti garden set up, beautiful vibrant furniture in the signature Paola Lenti yarn, and colorful ceramic glazed table tops.
9. Do you have any upcoming projects you would like to share with our readers?
A new commercial concept store with an F&B section in Riyadh, KSA. That's all we can say for now.
10. What is the biggest challenge you'd say is when working on a project, besides budget?
Project delivery program, not only is there a high demand of the design packages to be finalized in record timing. The current global situation has now made shipping items from outside of the UAE quite challenging, what used to take 4-6 weeks now takes months.
11. A dream project you would love to work on?
A museum or an art gallery.
12. What design trends do you see in the future of building materials?
I've always been drawn to natural materials, love their unique characteristics and how they adapt and change overtime with the project, the wear and tear flaws just add to their charm. I see a big return to local natural materials like clay plasters, terracotta blocks, sandstones cladding. In addition to a strong focus on reclaimed and repurposed materials from plastic waste.